---
A Classic Spider-Man Villain Would Make A Horrifying Punisher
---
Warning: contains spoilers for X-Force #30!
One fan-favorite Spider-Man villains would make an even more terrifying version of the Punisher – even (or perhaps because of) his absolute refusal to use guns). Peter Parker is known for having one of the most memorable groups of supervillains in comics history, and many of the villains are animal-themed: the Green Goblin, the Rhino, Doctor Octopus, Scorpion, etc. But X-Force #30 proves that Kraven the Hunter is an outlier in more ways than one; not only is he not animal-themed, but he seeks out the most powerful animals to kill – and he believes humans are the most dangerous game.
SCREENRANT VIDEO OF THE DAY
The Punisher, first appearing in Amazing Spider-Man #129, is an extraordinarily dark Marvel antihero who quite famously has no rule against killing his enemies. In fact, he has the opposite methodology: Frank Castle kills nearly every criminal he fights, and sparing his victims is the exception rather than the rule. While this gives Punisher a unique villain problem in the Marvel Universe (he has no recurring villains because he kills most of them), it also makes him one of the few Marvel heroes who uses guns regularly to execute criminals. But Kraven would be even more terrifying than the Punisher specifically because he doesn't use guns.
In X-Force #30, written by Benjamin Percy with art by Robert Gill, Kraven the Hunter searches for his next hunt by braving the icy weather of the North Pole. He kills a seal to use as food and other resources – but mainly as bait for a massive polar bear, one of the few animals who actively see humans as prey. "I never use a gun, because that distances the killing," Kraven muses as the battle begins between man and animal. "A hunt isn't earned if you can't smell the meaty breath of the thing that wants to savage you."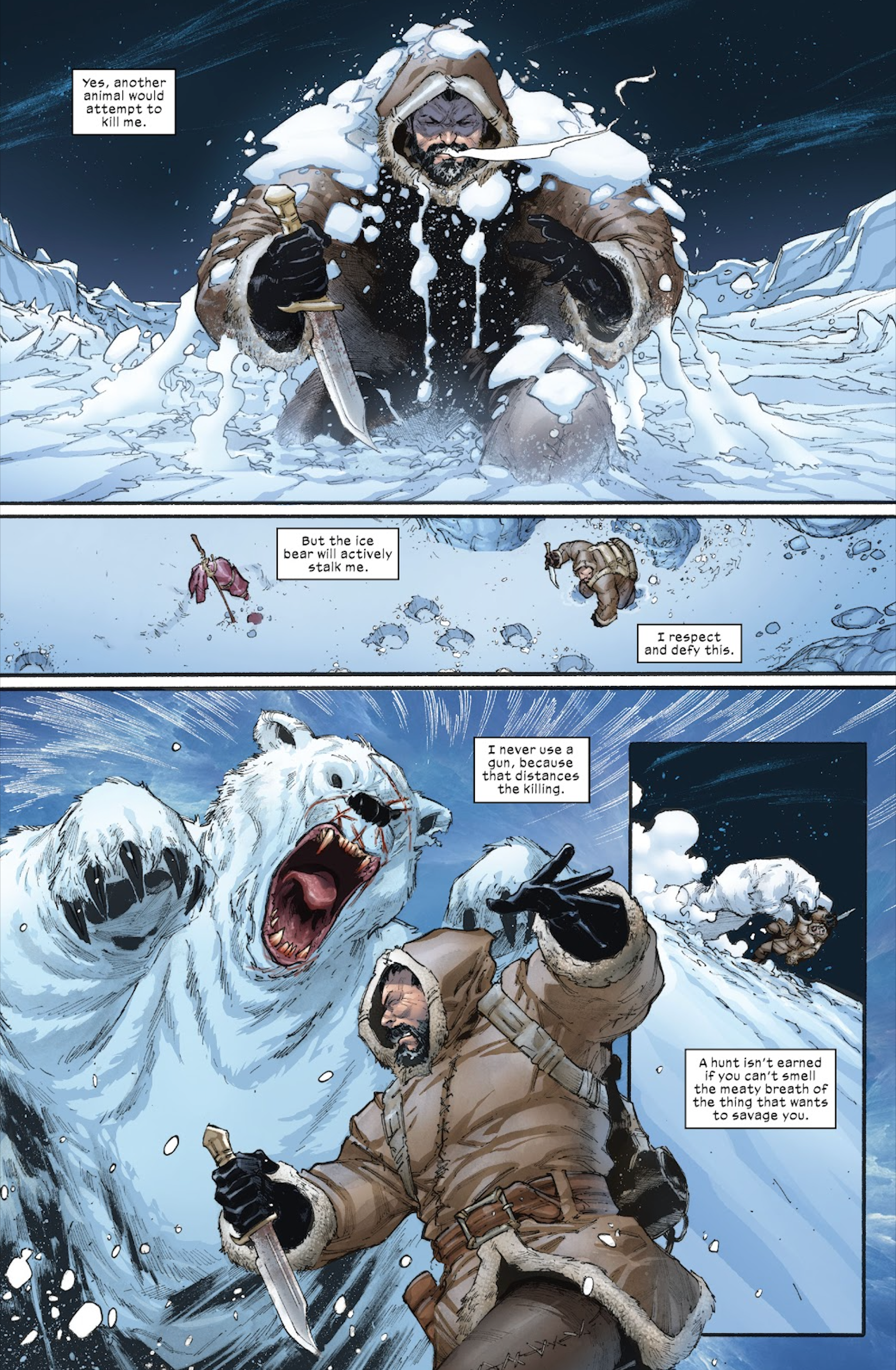 The fact that Kraven doesn't use guns (outside of a few instances, such as Kraven's Last Hunt) would make him as astonishingly horrifying version of the Punisher. Kraven, similarly to Frank Castle, has no qualms about killing his prey – in fact, he prefers it. He also prefers to kill up-close – something that would, oddly enough, work against Spider-Man. Peter Parker's famous Spider-Sense allows him to dodge shots with relative ease, but if Kraven sets a trap for the wallcrawler (which he has done before), he would close the distance and use a blade instead of a long-range firearm.
Kraven, however, has a very twisted sense of morality and most likely wouldn't go after criminals like the Punisher. Kraven is always interested in hunting the biggest, most dangerous game. While Frank Castle will happily shoot people in the back if it means one less criminal will walk the streets, Kraven has a sense of honor and pride, twisted as it may seem. Kraven the Hunter would indeed make a horrifying Punisher, but this vicious Spider-Man villain would only go after "big game" rather than lowlife criminals.