---
American Gods Introduces Vulcan: God of Guns
---
Ever since fiction fans got their hands on Neil Gaiman's American Gods, many have been itching for an on-screen adaptation of the inventive novel. Set in a world in which gods exist and gain strength from their number of believers, the book follows Shadow Moon, freshly released from prison, as he accompanies the mysterious Mr. Wednesday on a quest to assemble all the old gods. Much of the book's central conflict comes from the tension between the old gods, who are now nearly mortal since their followers have abandoned them over the years, and the new gods, like Media and Technology, who grow stronger by the day.
SCREENRANT VIDEO OF THE DAY
When Bryan Fuller (Hannibal, Pushing Daisies) announced he would develop an American Gods series for Starz, fans were ecstatic to see how the inventive co-showrunner would develop Gaiman's speculative tale. With Ricky Whittle and Ian McShane in lead roles as Shadow and Mr. Wednesday, respectively, the series is really shaping up to be one to watch. And now, Fuller has revealed another compelling character that takes the show's premise one step further.
According to a report by EW, the American Gods TV show will add an original character to their first season — one imagined by Gaiman himself. The character is Vulcan, an ancient god of fire and metalworking who has since rebranded himself as the god of guns to increase his popularity. In America, as one can imagine, that rebranding has gained him a huge following. According to co-showrunner Michael Green:
"He's a brand-new addition who came from an experience Neil had. He was going through a small town in Alabama where he saw a statue of Vulcan. It was a steel town and, as he told the story, there was a factory that had a series of accidents where people were killed on the job and they kept happening because an actuarial had done the numbers and realized that it was cheaper to pay out the damages to the families of people who lost people, rather than to shut down the factory long enough to repair, and that occurred to him as modern a definition of sacrifice as there might be."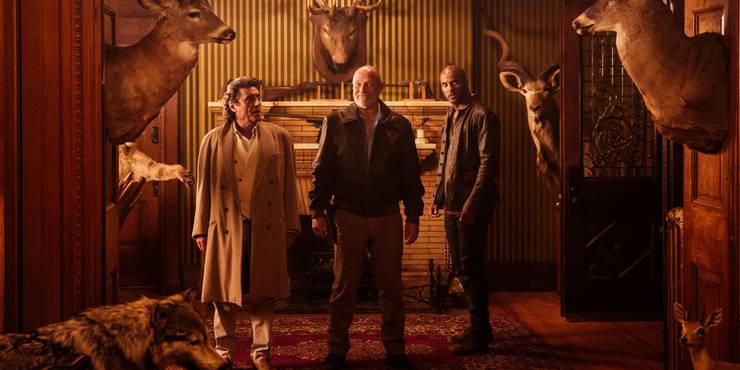 Fuller reveals that the show is hoping to use the character as a commentary on the modern obsession with guns in America. According to the co-showrunner:
"Vulcan's the god of the volcano and the forge, and what is the modern-day extrapolation of what that god could do? We started talking about America's obsession with guns and gun control and, really, if you're holding a gun in your hand, it's a mini volcano, and perhaps, through this character, there's a conversation to be had."
Corbin Bernsen (L.A. Law, Psych) will play Vulcan, whose allegiance to either the old or new gods will not be so black and white, as a new-old god.
This new character certainly leaves room for some interesting moments in the series, and allows for a bit of politics in a show that's already, inherently, fairly political. It will be interesting to see whether the show decides to take a concrete stand for or against gun control, or if they will let Vulcan be a statement all on his own. As the creator of NBC's Hannibal, Fuller is certainly fascinated with America's love of violence, so this could potentially be a riveting venue in which to explore that fascination.
Between promising developments like these and a killer cast (including Gillian Anderson, Emily Browning, and Kristin Chenoweth), this series is sure to be a conversation-starter. It's only a matter of time before we see which conversation, exactly, the show aims to start.
American Gods will premiere on Starz sometime in 2017.
Source: EW
Indiana Jones & Goonies Star Explains Why He Quit Acting For 20 Years