---
Ben Reilly Returns As Spider-Man (And Peter Parker Has Some Questions)
---
Warning! Spoilers ahead for Amazing Spider-Man #75
In a new preview for Marvel Comics' Amazing Spider-Man, a new era has begun that sees Ben Reilly returning as the Wall-Crawler, though it looks as though the original Spider-Man will have some questions. Seemingly caught off guard by his clone, Ben's return has come as a complete surprise to Peter Parker, who's still struggling in the aftermath of his final battle with Kindred. It seems as though the two Spider-Men will be working together before Ben Reilly completely takes over, as has been teased with this new Spider-Man Beyond era.
In the aftermath of Spider-Man's climactic battle with Kindred in the conclusion of Nick Spencer's three-year run on the title, Harry Osborn is now dead. Despite being recently revealed as a clone of the original Harry, he gave his life to save his father Norman from Kindred. Furthermore, Spider-Man's demonic foe was revealed to be corrupted clones of Harry and Gwen Stacy working in tandem, believing themselves to be the children of Norman and Gwen after their affair in Sins Past (one of Spider-Man's most despised plot twists). In actuality, the clones had been servants of the devil Mephisto who unleashed them to torment Spider-Man before their ultimate defeat at the end of Spencer's final issue.
SCREENRANT VIDEO OF THE DAY
Now, Spider-Man Beyond is here, seeing Peter Parker grappling with Harry's death while his own clone Ben Reilly has surprisingly returned. In the new preview for the upcoming Amazing Spider-Man #75 from Zeb Wells and Patrick Gleason, Peter Parker is looking to clear his head with some web-swinging only to find that Reilly has beaten him to the punch, wearing an all-new Spider-Man suit rather than his usual Scarlet Spider threads. Naturally, this results in Peter not immediately recognizing this new Spider-Man as Ben, and he soon pursues the new Webslinger looking to get some answers. Here are the preview pages and the synopsis for the upcoming issue: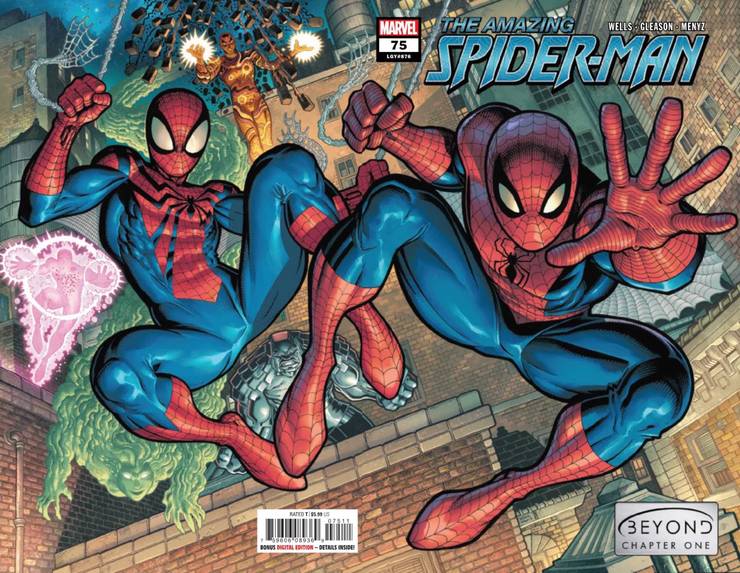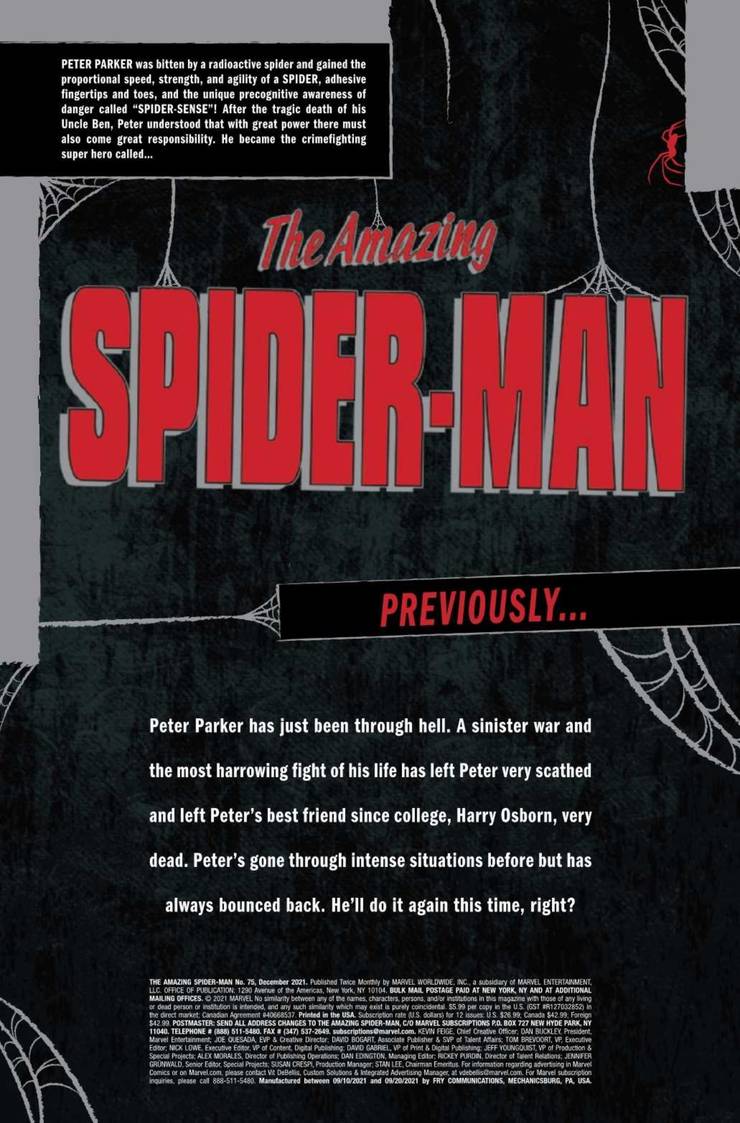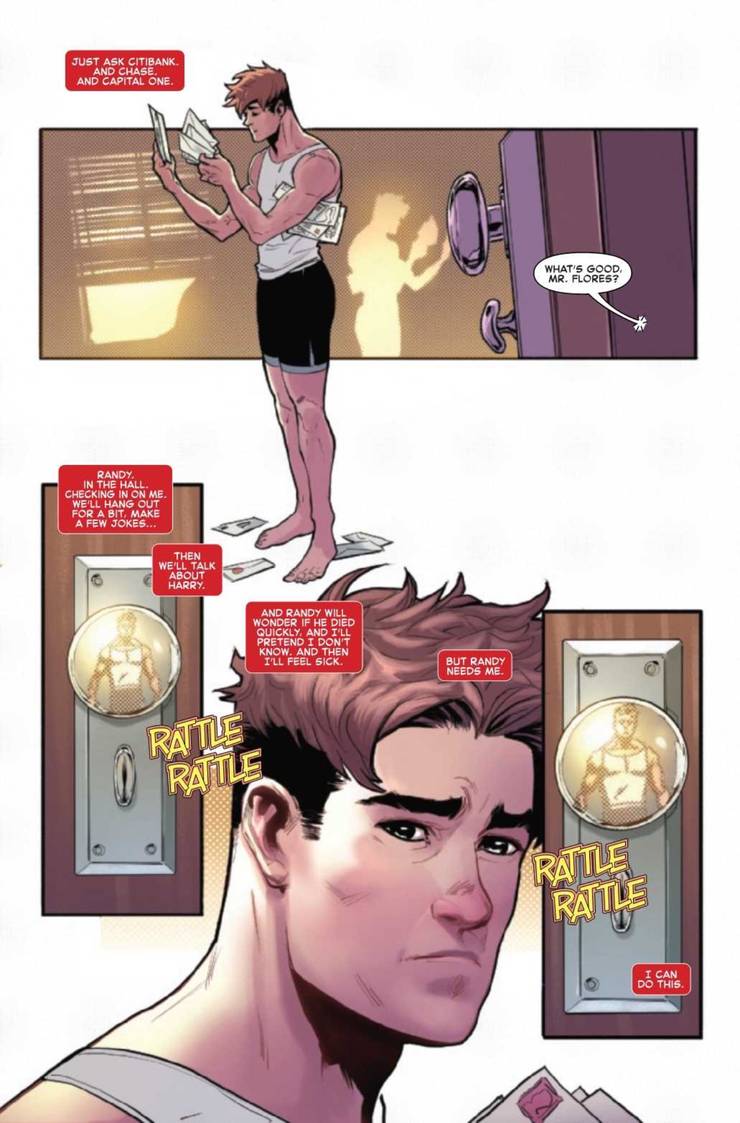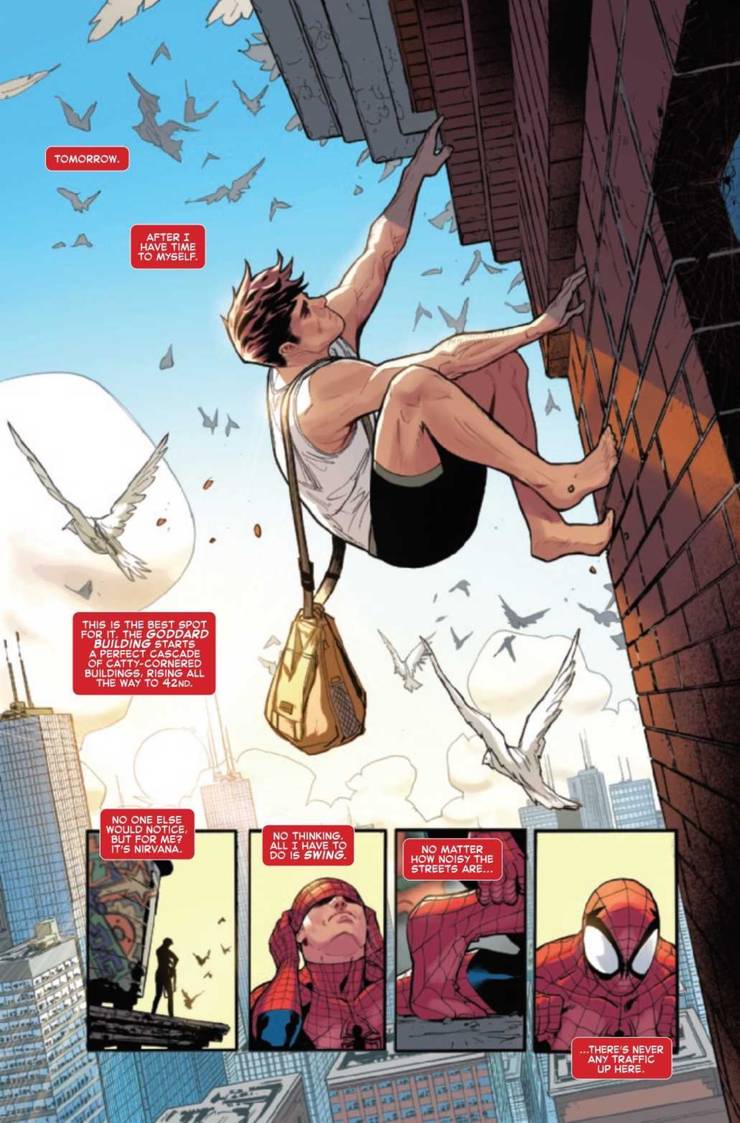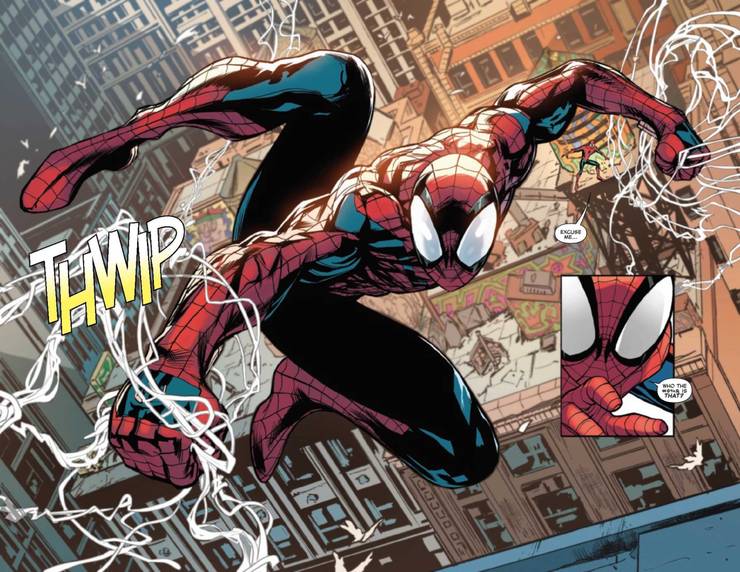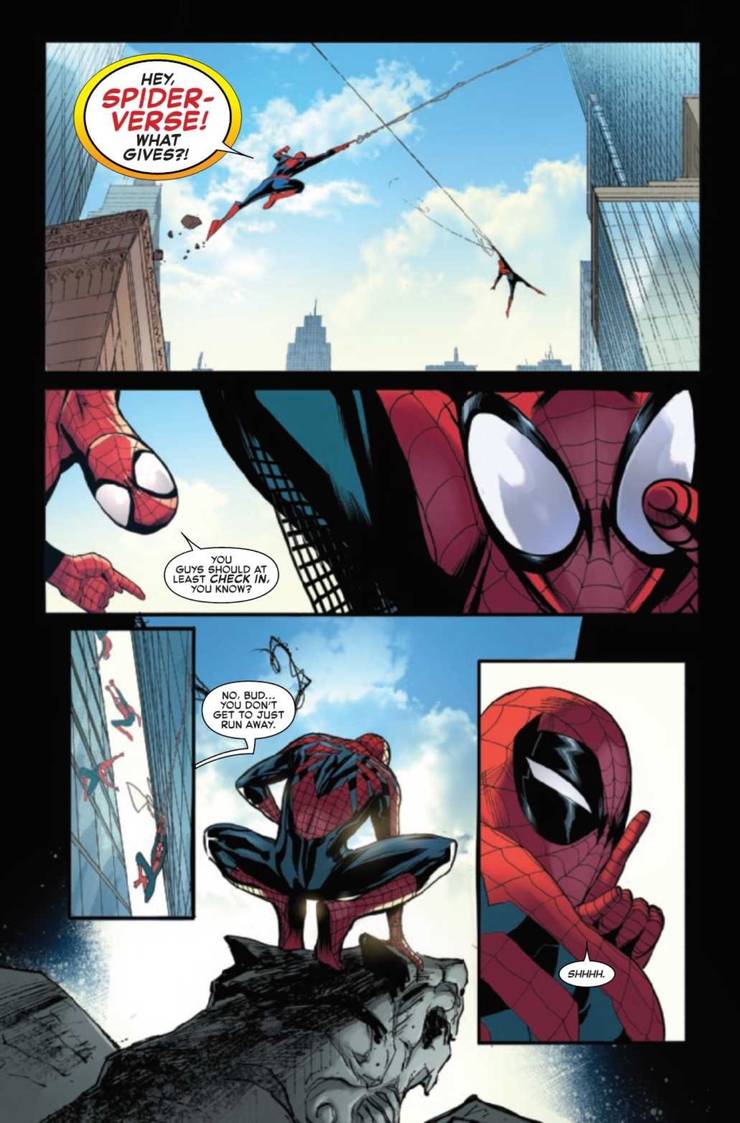 AMAZING SPIDER-MAN #75
AMAZING SPIDER-MAN is back to thrice-monthly because this story is pure jet fuel. Ben Reilly has returned to NYC and has fully taken back the mantle of Spider-Man, but what does this mean for Peter Parker? The greatest team of web-writers has come together with the most epic arachnid-artists ever assembled to bring you a Spider-story that will shake up Spider-Man's 59th year in ways you CANNOT PREDICT!
While Peter's assumption that Spider-Verse shenanigans are afoot is comical, it's not as if it's a big leap in logic considering how many Spider-Verse events and alternate Spider heroes he's interacted with in the past. However, it looks as though Peter will have to wait a little longer to get his answers, seeing as how Ben's Spider-Man seems to be on a mission and shushes the original Wallcrawler after he catches up to him. As a result, one can assume that a team-up will be in the works when the full issue releases.
While past previews and teasers for Spider-Man Beyond have confirmed that Ben will eventually take over as Spider-Man, being backed by the mysterious Beyond Corporation, it's yet to be revealed what exactly will put Peter Parker out of commission. At the moment, the original Spider-Man doesn't even know that he's dealing with his own clone in this preview. So here's hoping Peter Parker can get up to speed when the full Amazing Spider-Man #75 releases on October 6.
Star Wars Comic Soars In Value Following Disney+ Series Leak
About The Author

Kevin Erdmann (2557 Articles Published)
Kevin Erdmann is one of Screen Rant's staff writers. With a major in Cinema Studies and a minor in Comics and Cartoon Studies from the UofO, Kevin is pretty sure he's writing for the right site. While Kevin is a huge Marvel fan, he also loves Batman because he's Batman and is a firm believer that Han shot first. Disney also shares a big part of his fan patronage. Kevin lives in Oregon with his wonderful wife and sinister cat who is no doubt currently plotting his demise.
More From Kevin Erdmann