---
Chris Klein Revealed as Cicada in First Flash Season 5 Image
---
New images from The Flash season 5 reveal the first proper look at the villain known as Cicada. Barry Allen's (Grant Gustin) was turned upside down at the end of season 4 when he learned another speedster was in Central City. The purple lightning came from none other than his daughter Nora (Jessica Parker Kennedy), who had traveled back in time to be with her parents. While they try to figure out why she has arrived and if she can return to her rightful place in the timeline, The Flash has to deal with his latest threat.
Chris Klein was cast as David Hersch, aka Cicada, for The Flash season 5 earlier this year. His addition was announced at San Diego Comic-Con following the release of a trailer that teased the inclusion of the DC villain. As the marketing has moved into the final stages before the season 5 premiere this week, he had yet to be completely revealed – until now.
SCREENRANT VIDEO OF THE DAY
Related: What Elseworlds Means For The Arrowverse & Batwoman
The CW released official photos from season 5 episode 2, "Blocked", and included in them are the first looks at Chris Klein's Cicada. The Flash season 5 character breakdowns that first confirmed Cicada's involvement described him as a "semi-immortal metahuman who has the ability to disable other metahumans' abilities and blames other super-powered individuals for his suffering." After just getting to hear his breathing and seeing his Lightning Daggers, his full look is now revealed, along with a tease of him using one of the daggers against Cisco Ramon/Vibe (Carlos Valdes).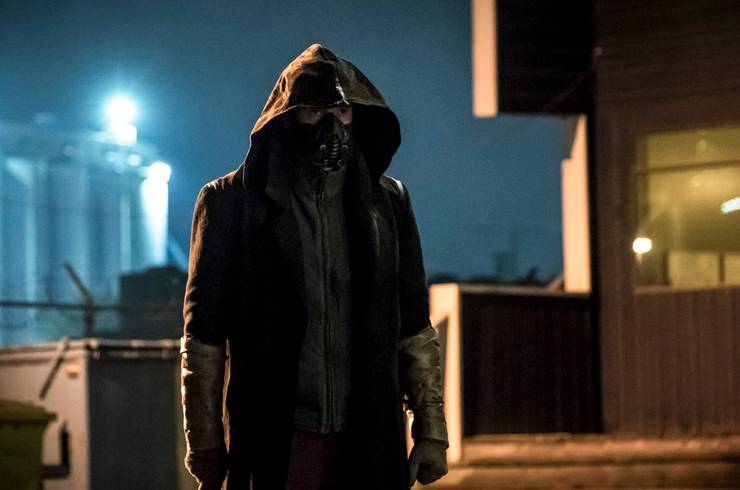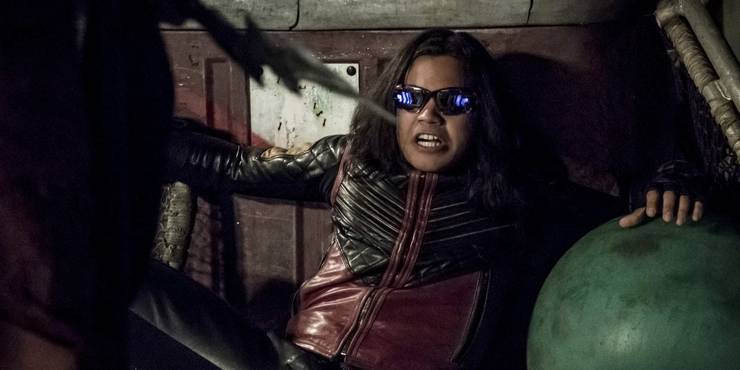 DC Comics readers may be surprised to see how Cicada appears, as his look largely differs from the source material. In the comics, he's an old, bald man with a long white beard when he battles Flash. He has potential immortality thanks to his ability to steal the souls of others to extend his own life. This could be partially changed for the show as it appears he's been given the ability to take metahuman powers but not someone's soul.
At this point in the lead up to The Flash's return, it's simply nice to finally get a clear look at Cicada. Even the most recent Flash trailer just continued to tease his presence instead of actually showing him. Since these images are from the second episode of the series, it's possible viewers may not get to see him in action during the season premiere. Thankfully, the wait is almost over to see whether or not he appears.
MORE: All 10 Superhero Shows Returning or Premiering In Fall 2018
The Flash season 5 premieres on October 9 on The CW.
Source: The CW
Young Sheldon: Mary Is To Blame For Missy's Tragic Big Bang Theory Fate
About The Author

Cooper Hood (5660 Articles Published)
Cooper Hood is a news and feature writer for Screen Rant. He joined Screen Rant in late 2016 following a year-long stint with MCU Exchange, which came after first developing an MCU blog of his own. He graduated college in 2016 with a Bachelor's degree in Media & Public Communication, with a minor in Media Production. Cooper's love for movies began by watching Toy Story and Lion King on repeat as a child, but it wasn't until The Avengers that he took an invested interest in movies and the filmmaking process, leading him to discover the world of film journalism. Every year Cooper looks forward to seeing the latest blockbusters from the likes of Marvel, DC, and Star Wars, but also loves the rush to catch up on Oscar films near the end of the year. When he isn't writing about or watching new releases, Cooper is a fantasy football obsessive and looking to expand his Blu-Ray collection – because physical media is still king! Follow Cooper on Twitter @MovieCooper.
More From Cooper Hood