---
Clone Wars Shows Just How Strong Anakin & Ahsoka's Force Connection Was
---
Warning: SPOILERS for Clone Wars season 7, episode 6, "Deal No Deal".
Ahsoka Tano has finally returned in Star War: The Clone Wars season 7, and its most recent episode – Clone Wars season 7, episode 6, "Deal No Deal" – shows just how strong her connection still is with her former master, Anakin Skywalker. The revival of the popular Star Wars cartoon is already on to its second arc, now shifting focus to explain what happened to Ahsoka after she left the Jedi Order.
Along with her long-awaited return on The Clone Wars, Ahsoka may also be appearing in The Mandalorian season 2. A recent casting report has suggested that the role for which Rosario Dawson has been cast is that of Ahsoka, though this has yet to be officially confirmed. Dawson will appear on The Mandalorian season 2 in a supporting role for at least one episode, and if it's as Ahsoka, then there's a good chance this live-action appearance will lead to more, potentially in future episodes of The Mandorian or even an Ahsoka spinoff. Before then, however, Ahsoka will continue to appear in The Clone Wars season 7 (where she's voiced by actress Ashley Eckstein), and her most recent episode, includes a short but touching scene between her and Anakin.
SCREENRANT VIDEO OF THE DAY
In Star Wars: The Clones Wars season 7, episode 6, "Deal or No Deal", Ahsoka joins Trace and her sister, Rafa, on a dangerous smuggling mission. They make their way to leave Coruscant, but as Trace is more or less a novice pilot, they wind up accidentally flying through military airspace. This leads to them being hailed by Admiral Yularen from the nearby Republic cruiser, demanding to know what they're doing. Anakin is also on the cruiser, and as Trace scrambles to pilot the ship into the cargo lane, he reaches out with the Force and immediately senses Ahsoka. She senses him back, and there's a moment of recognition between them before Anakin tells Yularen the ship is nothing to worry about. The scene is brief, but it demonstrates how strong the bond remains between Master and Padawan, not to mention, that Anakin still cares about Ahsoka. If he'd wanted to, Anakin could easily have allowed Yularen to arrest them as he wished, but he didn't. The ordeal that led to Ahsoka leaving the Jedi may have added to Anakin's growing distrust of them, but not her.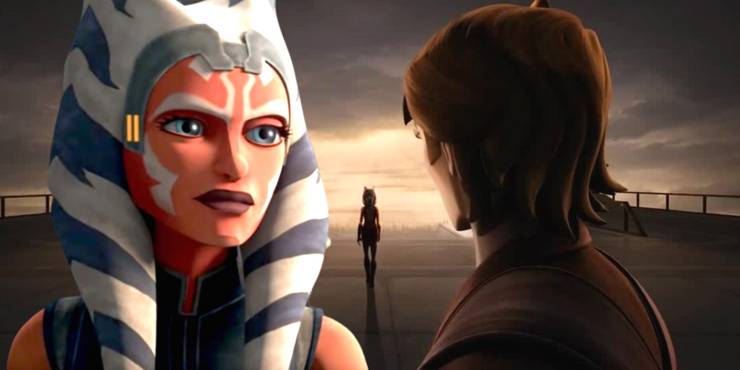 The scene also comes across as an inverse of a now infamous scene in Star Wars Rebels where Ahsoka reaches out to Darth Vader with the Force and learns it's Anakin under the mask. That moment is not one of recognition and friendship, but horror and sadness at what has become of her friend. In between then and now, much will have changed for Anakin and Ahsoka, but in this moment on The Clone Wars they still care for and trust each other. And sadly, it's hard not to wonder how different the future might have been were Ahsoka still Anakin's Padawan at this point in the saga. Would Palpatine have been able play on Anakin's fear so easily? Would Anakin's paranoia over Padme's well-being still have driven him to do those unspeakable things? As Yoda says, "Always in motion is the future," so we can only guess at what kind of impact, if any, Ahsoka's presence might have had on the events to come, and specifically on what transpires in Star Wars: Episode III – Revenge of the Sith.
In Star Wars: The Clone Wars season 7, Anakin and Ahsoka will meet at least one more time, just before the Siege of Mandalore when he gives her a new set of lightsabers, but it's quite possible that will be the last time they see each other before Anakin becomes Darth Vader. If true, then we can only hope their final scene as friends ends their time together on a happy note, no matter how bittersweet.
Better Call Saul's Nacho Story Makes Breaking Bad's Cousins' Deaths Better
About The Author

Sarah Moran (1214 Articles Published)
Sarah Moran is a news editor for Screen Rant and has been contributing to the site since 2014. She primarily writes features and covers the ongoing development of current movies and television shows. Sarah is a graduate of THE Ohio State University where she earned her B.A. in Film Studies in 2009.
Sarah's favorite movies range from studio era classics to the latest sci-fi and superhero blockbusters. Her favorite TV shows are animated, and she's always up to watch a documentary. Sarah spends her free time playing too many video games and proudly supporting the Columbus Crew, the greatest team the world has ever seen.
More From Sarah Moran