---
Dave Grohl's 10 Best Movies & TV Cameos
---
After earning solid reviews for riffing on his own image in the horror-comedy Studio 666 in 2021, iconic rocker Dave Grohl recently voiced the role of Ronnie D in the animated series Duncanville, suggesting more acting roles may be in the cards in the future. While he and his band Foo Fighters have performed on countless TV shows, Grohl has also appeared in several movies and scripted TV series that remain popular to this day.
From sketch comedy, sci-fi, horror, and children's shows alike, Dave Grohl continues to entertain fans through his onscreen movie and TV appearances dating back to 1996.
SCREENRANT VIDEO OF THE DAY
The X-Files (1996)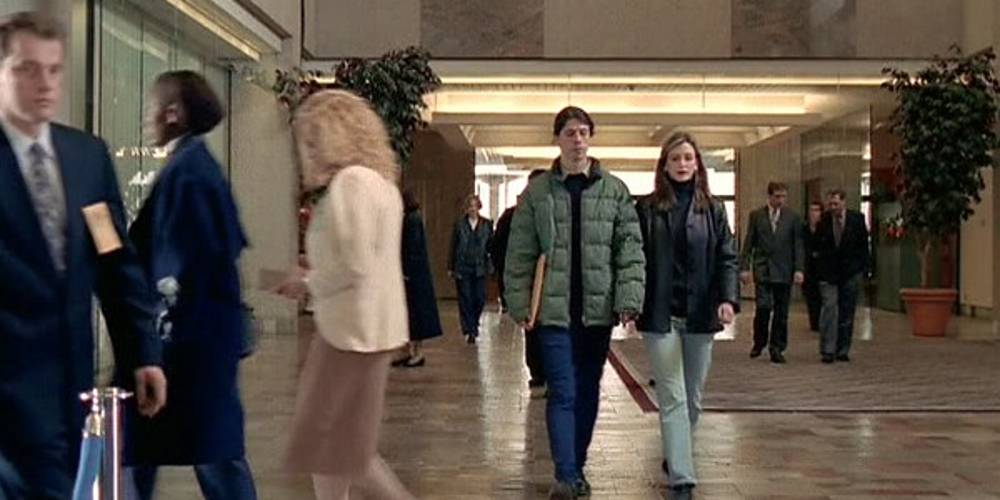 Before he was a household name as the frontman for Foo Fighters, Grohl made a minor cameo appearance on the all-time great sci-fi TV show The X-Files, doing so alongside his then-wife Jennifer Youngblood. As a huge fan of the show, Grohl and his wife simply amble across a lobby while carrying documents in the episode "Pusher," the 17th episode of season 3.
Per an MTV interview in 1998 (above), Grohl explained how he became part of the show, stating that he was asked to appear because the phrase Foo Fighters is slang for UFOs and the band was on Roswell Records, a reference to the infamous UFO crash in 1947 in Roswell, New Mexico. The band was asked to submit music for the show's soundtrack, which continued via the 1998 spin-off movie. As such, it's a hidden gem with germane ties to the band's namesake.
Space Ghost Coast To Coast (1996)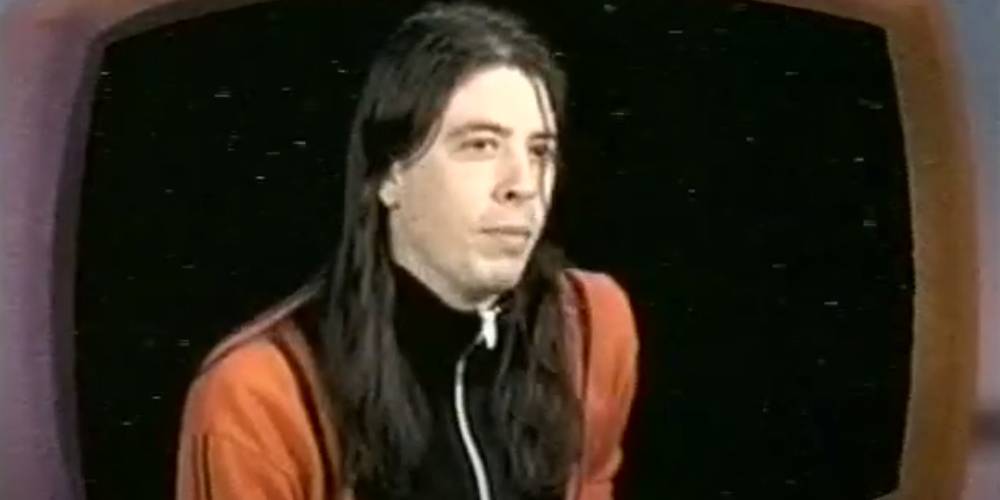 Remember when Space Ghost was all the rage in the '90s? In the spinoff talk show Space Ghost Coast to Coast, Grohl appeared via satellite to give a hysterically awkward interview with the superhero. After heaping effusive praise on Space Ghost, Dave inadvertently insults his host's mother and things go off the rails from there.
Despite his limited movie and TV appearances up to that point, the interview shows how naturally comfortable Grohl is on camera and how he understands how to play the game by giving hilarious facial reactions and well-timed quips. A lost relic sure to delight fans, Grohl's charismatic showmanship is on full display way back in 1996.
Tenacious D In The Pick Of Destiny (2006)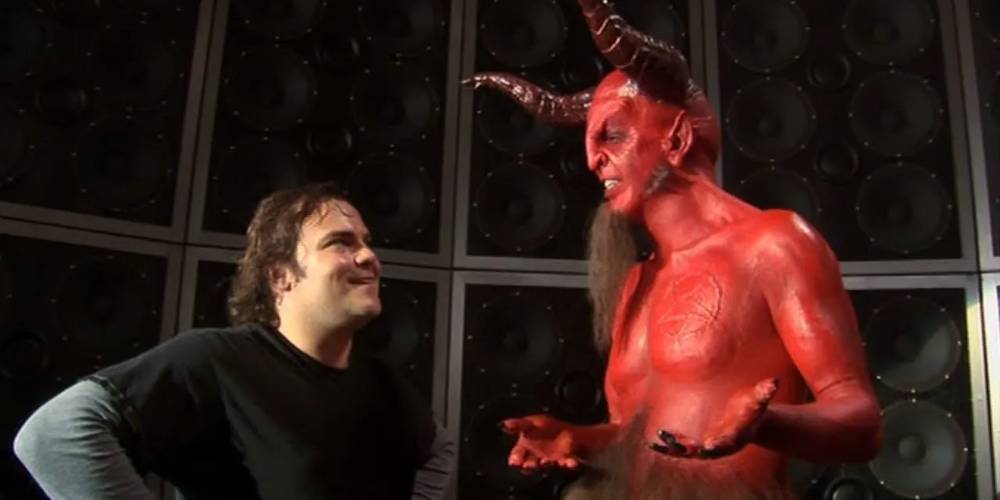 In his first real movie role, Grohl stole the show as Satan in Tenacious D in the Pick of Destiny, donning full blood-red regalia including horns, a large goatee, a tattooed pentagram, and full-on prosthetic makeup. While he may be unrecognizable to the trained eye, once Satan starts ripping on the drums and playing Tenacious D's best songs, it won't take long for Nirvana fans to know what's up.
Doing a friendly favor for stars Jack Black and Kyle Gass, Grohl admits in a behind-the-scenes video (above) that he thought Tenacious D in the Pick of Destiny would be his one and only movie role. Alas, after dedicating himself so thoroughly to the process and having a ball onscreen, it makes sense that Grohl would evolve to write and star in his own horror comedy 15 years later.
Saturday Night Live (2007-)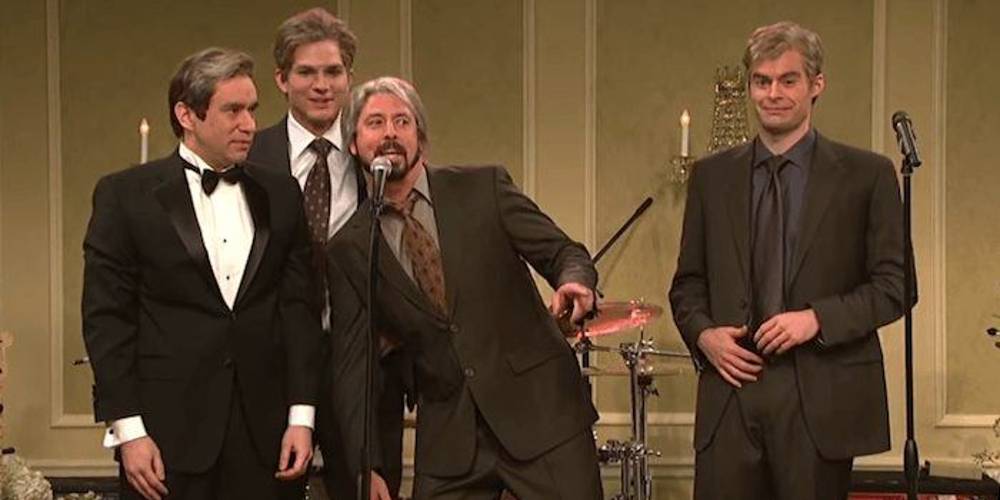 Although he'd been performing music on SNL since 1992, Grohl began performing in various skits beginning in 2007 with the hilarious digital short "People Getting Punched Right Before Eating." With a handful of skits since his first, the most organic includes the time he played a drummer for the punk rock band Crisis of Conformity during their raucous wedding reunion.
Performing with Ashton Kutcher, Fred Armisen, and Bill Hader, the band goes extremely overboard by cranking the anarchic punk rock jam to volume 10 before turning the crowd into a violent mosh pit. It's a ridiculously funny cameo by Grohl that makes the band feel authentic, with Grohl also given absurd lines that prove how comfortable he's become as an actor who can hang on stage with fellow professionals.
The Muppets (2011 & 2015)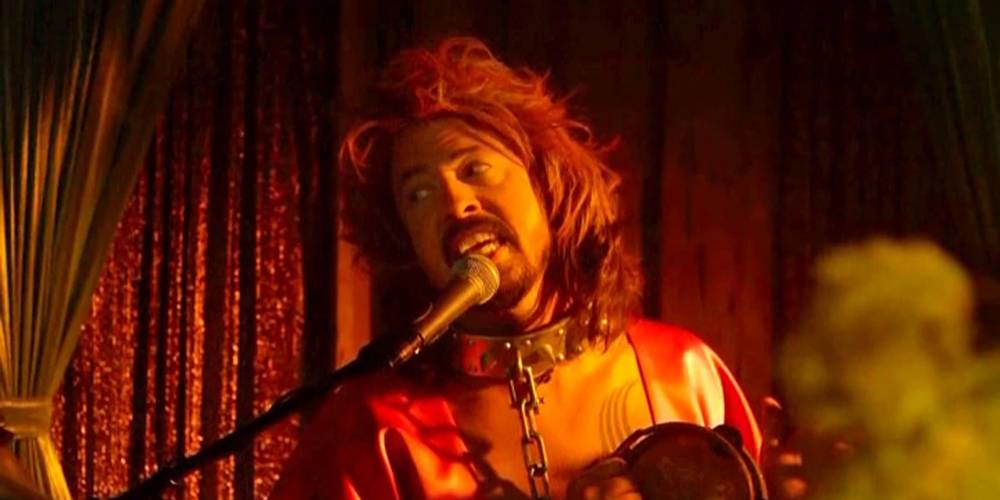 Grohl has made two Muppet cameos to date, one in the 2011 film and another in the 2015 TV show. In the former, Grohl plays Animool, the sedate drummer who plays tambourine while Fozzy Bear sings a tune in a small club. Never mind the ludicrous wig and large chain necklace, the music played is so soft and sleepy compared to what Grohl is known for that one can't help but chuckle at his deadpan appearance.
In the 2015 TV cameo, Grohl battles the original Animal in a talent show battle, in which the iconic rocker performs "Learning to Fly." A great self-reflexive tie-in to his earlier performance as Animool, Grohl is essentially battling himself in the showdown. A fun callback indeed!
Drunk History (2013 & 2016)
Grohl appeared on Comedy Central's Drunk History twice, both of which stand out as some of the funniest fictional cameos on the comedic reenactment show. In 2013, Grohl had a blast playing a belligerent Memphis Mafia Member who follows Elvis to Washington, DC. In 2016, Grohl played the political rival of Alexander Hamilton with Lin Manuel Miranda narrating.
In both instances, Grohl continues to flash his natural comedic timing while improving his acting chops by playing fictional characters replete with accents, costumes, and the like. It's a far cry from his dialog-free cameo in The X-files two decades earlier, indicating a clear performative evolution that should continue to be cultivated in the future.
Sesame Street (2019)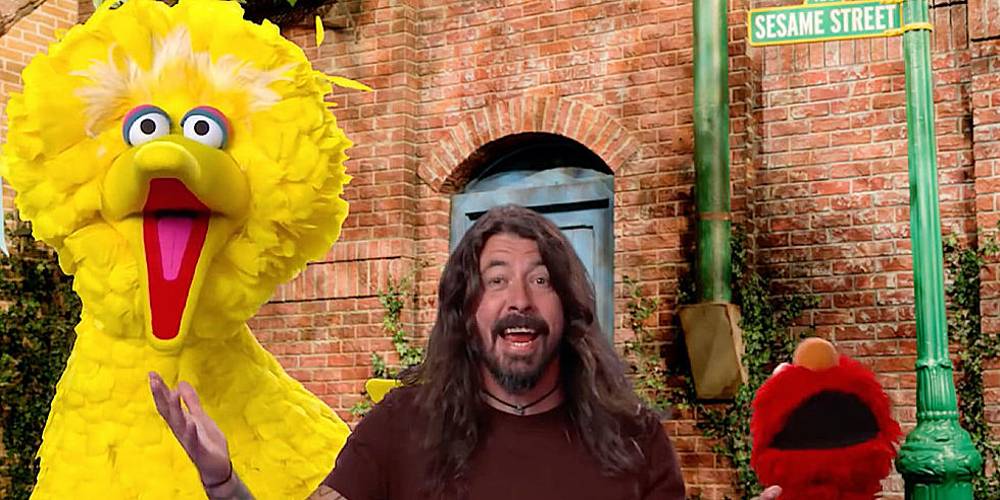 To help celebrate the 50th anniversary of the beloved children's edutainment program, Grohl happily sang a tune with Elmo and Big Bird on Sesame Street in 2019. A rousing ode to traveling across America, the catchy rock jam proves the widespread appeal Grohl has and the moral messaging he advocates for children everywhere.
As Sesame Street's iconic characters Elmo, Big Bird, and Grohl travel America to meet new friends and family members, the delightful music video proves what a tremendous reach Grohl has as a public figure and entertainer. The man can go from an easy-going kid's show to a violent horror comedy and still remain his authentic self in the process.
Bill & Ted Face The Music (2020)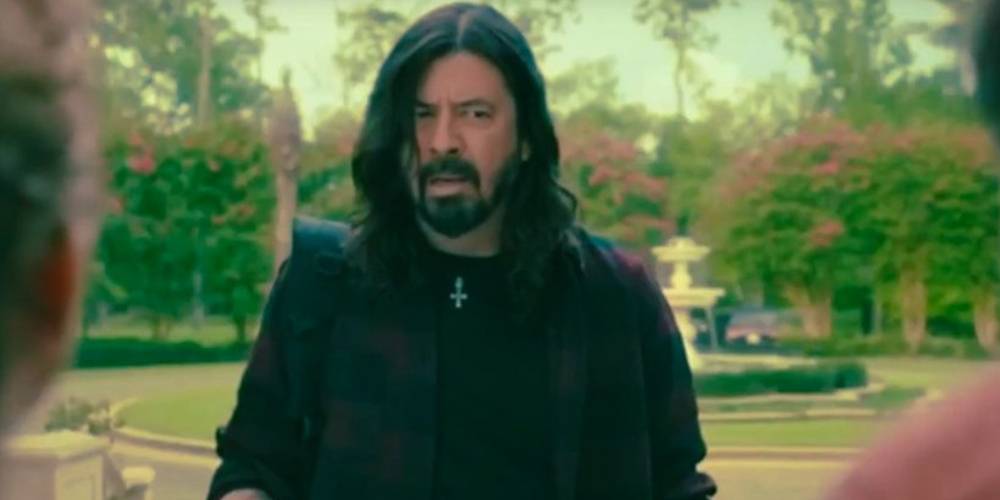 One of the few times Grohl plays against his lovable type in his onscreen cameos comes in Bill & Ted Face the Music. Bill and Ted encounter Grohl, who plays himself, on the front step of his mansion after the two finally obtain the song that will untie the world.
As Bill and Ted leave the house, they happen upon Grohl and express their joy to see him. However, the pleasantries are met with Grohl's prickly attitude, who angrily growls "Who are you guys? What'd you do to my house"? It's such an unexpected reaction given Grohl's famously kind demeanor that one can't help but laugh at the way he shatters his own image for a laugh.
Studio 666 (2021)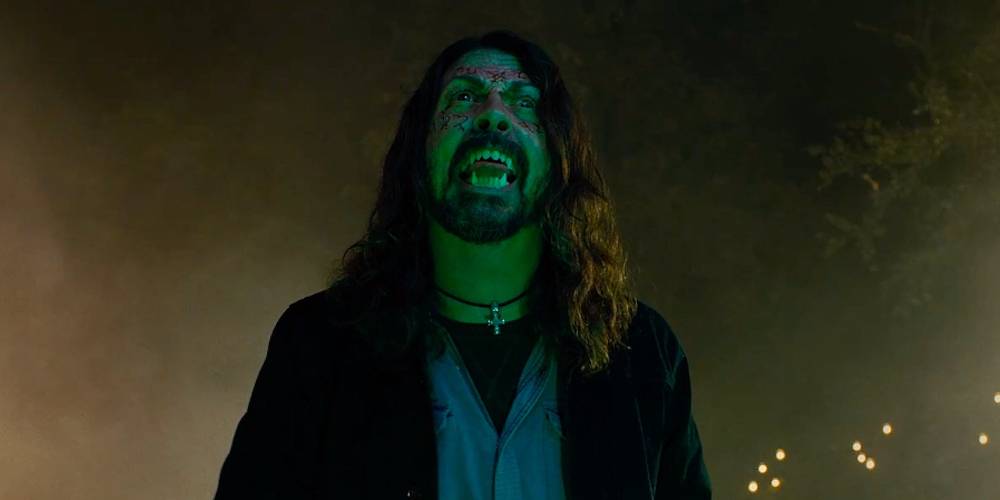 Without question, Grohl's performance in the supernatural comedy Studio 666 is his biggest, most substantial, and most convincing movie role to date. Playfully toying with his perceived rocker image with hilarious Studio 666 quotes, the story follows Foo Fighters' bout with evil after moving into an accursed manse to record their new album.
While it's one thing to show up and deliver a line or two in another director or showrunner's project, it's quite another to carry a film as the lead in a story they also wrote, which is precisely what Grohl managed to do extremely well in Studio 666. The full ownership of the material proves Grohl belongs on the big screen, a trend that hopefully continues in the future.
Duncanville (2022)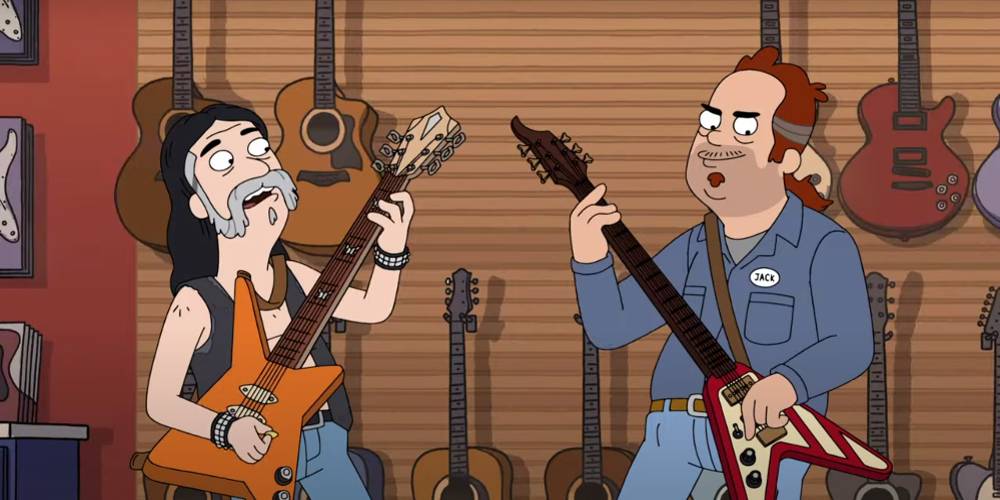 In his most recent TV cameo role, Grohl portrayed heavy metal rocker Ronnie D in the adult animated show Duncanville. Much of the ninth episode in season 3 concerns Jack's nostalgic return to Ronnie D's Axe Hole guitar shop where he spent his formative years learning to jam.
Clearly unchanged after decades, Ronnie is the same beer-swilling rocker he was before just with much more gray hair, proving that old habits die hard in the music game. The funniest part is when Ronnie rips into an impromptu jam session with Jack in the store, much to the horrified chagrin of Jack's children. What's more, the performance comes after so many years in front of the public eye that almost everyone will immediately recognize Grohl's voice, indicating he's just as welcome on the screen as he is on the stage.