---
Dennie Gordon Interview: Last Light
---
Matthew Fox is trying to stop the apocalypse in Last Light, the new limited series from Peacock based on the Alex Scarrow novel of the same name. Fox stars as Andy Yeats, a petro-chemist who specializes in oil. When the world's supply of oil begins to fail, Andy must figure out why. Meanwhile, his family, including his wife Elena, is countries away trying to prepare their son for a life-altering surgery. As a conspiracy unwinds and the world is thrown into chaos, Andy must not only save the world, but his family as well.
SCREENRANT VIDEO OF THE DAY
All five episodes of Last Light are directed by Dennie Gordon. Gordon has worked on a variety of acclaimed television shows including Legion, Tom Clancy's Jack Ryan, For All Mankind, and more. With filming taking place across multiple countries with an expansive cast, Last Light was no easy feat.
Screen Rant sat down with Gordon to discuss Last Light, including the massive international production, what it was like filming in beautiful locales like the Abu Dhabi desert, and reuniting with Fox after first directing him on Party of Five.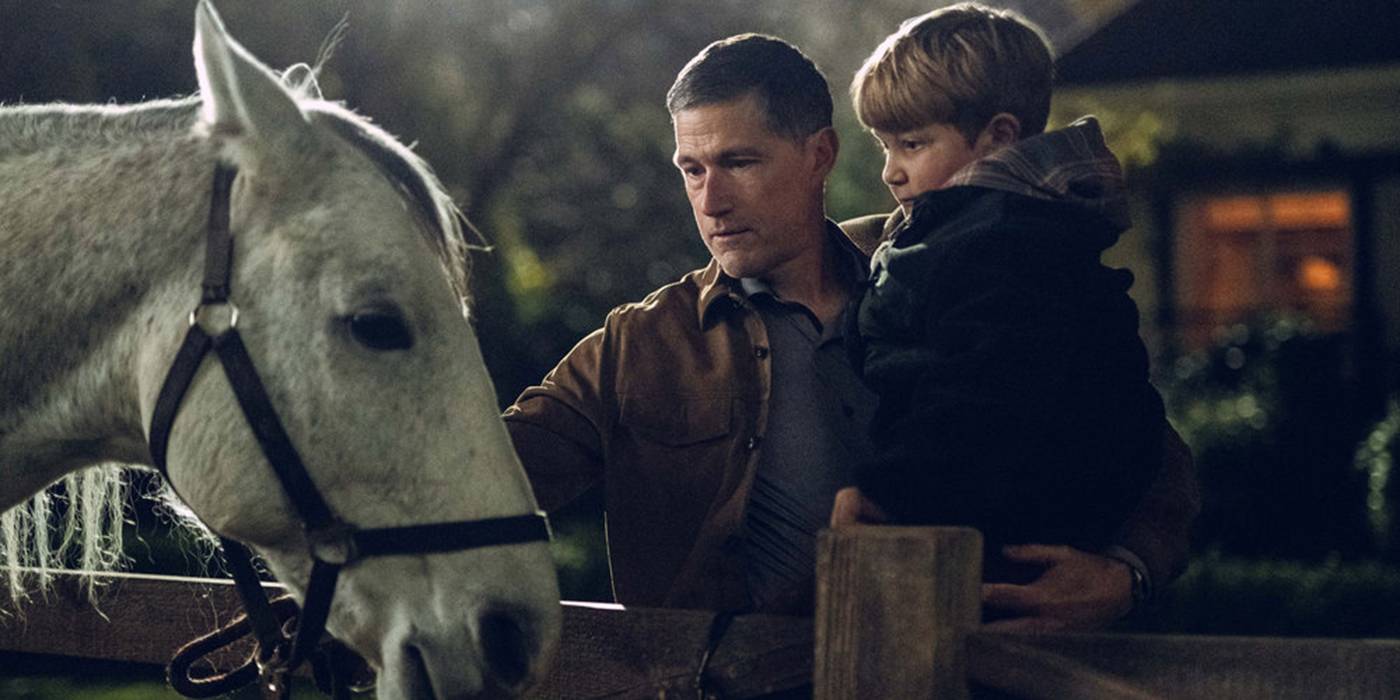 Screen Rant: Last Light is based on a book by Alex Scarrow. How did you come across the book and what was it about the story that made you want to bring it to television?
Dennie Gordon: I wasn't familiar with the book. But the book and the whole project were brought to me by Diego Piasek at MGM. I read the book and then read the first draft of the script, and I was just astonished at how compelling and thrilling it was. It had got into issues that mean so much to me and mean so much to everyone against the backdrop of a family who you care about [that is] pulled apart. I love the international aspect of it. I love that we were in all these different locations and different countries. And I love the ticking clock.
One of my favorite movies is Children of Men — I thought Alfonso did such a brilliant job with that film, and it influenced me very much on this project. It just checked all the boxes. I really could not wait to roll up my sleeves and get it going. We didn't have a lot of prep time. We felt like man, we gotta get going because this story is so ripped from the headlines. We got to get this out now.
It was a massive undertaking. You filmed in Prague, Paris, and Abu Dhabi. What was it like going to all these locations? Were there any particular challenges, especially when it came to those desert scenes?
Dennie Gordon: I work mostly internationally so the international aspect wasn't so challenging. I did Jack Ryan, and I think we were in 10 countries on that show. But what was great was I was able to pull a great international team together – my director of photography from Jack Ryan, Patrick Murguia, was able to join me. He had time in his schedule. We put together a bunch of people who I really love all around the globe. And the challenges were that there's not enough time, we're running out of daylight, we don't have enough money, we lost this location. Just production itself is challenging and tricky. But this particular world, because there was so much action and there was so much story, we had to be so clever. We had to stay one step ahead of the curve. And luckily, I had a very clever bunch around me to help.
You also had Matthew Fox back with you after working together on Party of Five. Now he's a bona fide television legend from Lost. What was it like reuniting with him after all that time, especially for his big return to television?
Dennie Gordon: It was so great. We liked each other very much the first time we came together, but we were both kids. I didn't have that much under my belt and neither did he and we both were able to bring all these years of experience where we weren't working together to the party. It was wonderful to come back together, and I was so thrilled he said yes because he's the guy to play this role and was really the first choice of all of us, creatively, MGM, everywhere. He's the kind of guy – you can't really direct this, and you can't pretend it – he just has this essential moral fiber and goodness. He's a natural hero. I tell you, when the apocalypse does come, I want to be with Matthew Fox. I know I'll make it.
There are some nail-biting action scenes that he's in and it's funny that you mentioned the ticking clock because a lot of it felt like the show 24, in terms of each episode feeling like this mini-movie. Did you have a favorite action scene or a favorite episode to shoot out of the five episode run?
Dennie Gordon: Oh, man, I loved all the babies. I couldn't say which is my favorite child, but I love doing action. And you know action only makes sense if it's story-based, if it's emotionally based. My eyes glaze over when it's just action, action, noise noise noise. If it's character-driven and emotionally-driven and story-driven, then I'm in.
I think what was exciting about this project was that there were so many of those moments and the story is Matthew stepping up to heroism. He's just an ordinary guy. He's a petro-chemist living in London, and the stuff he has to step up to. It's the same [with] Jo Froggatt as the mother. The things that she has to step up to. And Alyth Ross, my wonderful actress playing Laura. In extraordinary times, people have to step up and it was great fun to take these guys through the action. I wanted everybody to have a piece of it. And everybody really had fun with it.
Underneath the action, there are these really important and interesting questions about where we are as a society in terms of energy and responding to catastrophes on a global scale. What do you hope people are talking about after watching this?
Dennie Gordon: What my hope is, is that it starts a very proactive conversation about, okay, this is where we are. Here's our show, ripped from the headlines, all too authentic, all too true. Now, what are we going to do about it? We can all drive an electric car – in California, we're going to be, it's going to become law, it's going to become necessary to put solar panels on your roof. But we have to do so much more.
I think that we hope to start this debate about what we can do and what needs to be done, and how we can lean on our elected officials, and what we can do in our own households. We know how important this is to NATO. Everybody knows that. And it's exciting to be a part of that conversation if that can be occurring, as people are entertained, that they're spurred on and they think, okay, I really have to rethink this. I have to come at this from another direction. We will have done our job, we will have gotten our message across. Get out and do something. That's what it means. The lights are going out. So tick-tock. Everybody needs to get busy.
Last Light Synopsis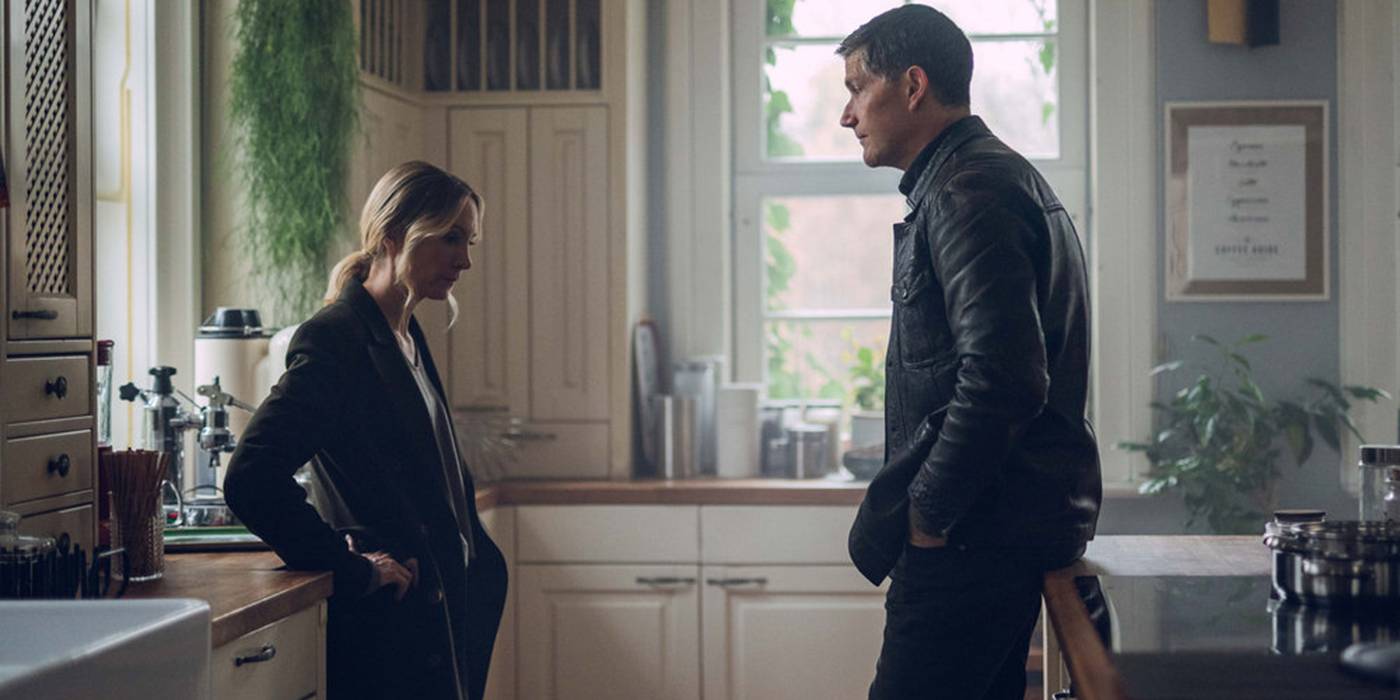 Petro-chemist Andy Yeats knows how dependent the world is on oil; if something were to happen to the world's oil supply, it would set off a chain reaction: transportation would grind to a halt, supplies would cease to be delivered, law enforcement would be overwhelmed.
While on a business trip to the Middle East, Andy realizes that his worst fears are coming true and his family is separated at this crucial moment. His teenage daughter, Laura, is alone at home in London while his wife, Elena, and young son, Sam, are in Paris. Amid this chaos, each family member will sacrifice everything to find one another, despite the distance and the dangers that separate them. Based on Alex Scarrow's best-selling novel of the same name.
Check out our other interview with Last Light stars Matthew Fox and Joanne Froggatt as well.
Last Light premieres September 8 on Peacock.