---
Destiny 2: Shadowkeep Update Brings Back Destiny 1 Randal the Vandal Meme
---
The Destiny 2: Shadowkeep Festival of the Lost update added an old Destiny 1 meme to Destiny 2's Moon destination, resurrecting a Nightmare of Randal the Vandal to terrorize Guardians once again. The update, which focused on Destiny's yearly Halloween festival, also added several new activities, like a new dungeon and the Haunted Forest seasonal activity.
The Festival of the Lost update is part of Destiny 2's new seasonal structure. While Destiny has had seasonal content drops for a while, this year's seasons change the game world in more dramatic ways, adding and removing activities and structures (similar to something like Fortnite). The current season, called Season of the Undying, introduced an activity called Vex Offensive, which tasks players with killing large waves of robotic Vex enemies. While Vex Offensive has been around since soon after Shadowkeep's launch, the Festival of the Lost update introduced a surprise activity called the Altars of Sorrow to the Moon's Sorrow's Harbor area. Altars of Sorrow works similarly to the Escalation Protocol activity on Mars, requiring players to defeat increasingly difficult tiers of enemies.
SCREENRANT VIDEO OF THE DAY
Because of the escalating difficulty, completing Altars of Sorrow necessitates unspoken cooperation from large groups of Guardians. Players need to stay focused in order to secure victory, which is why the appearance of Randal the Vandal in Sorrow's Harbor is perfectly timed. Reddit user JofusTheBeast was one of the first to notice a seemingly random Nightmare Reaver Vandal appearing among the Hive Nightmares during Altars of Sorrow, distracting unwitting Guardians during the event. This Nightmare is a reference to a Fallen Reaver Vandal who appeared in Destiny 1's Forgotten Shore. The Vandal always spawned with an abnormally large pool of health, making it more difficult to take down than even some of the game's bosses. The community dubbed this enemy Randal, and Bungie has referenced the hardy Vandal in-game several times since Destiny 1's release.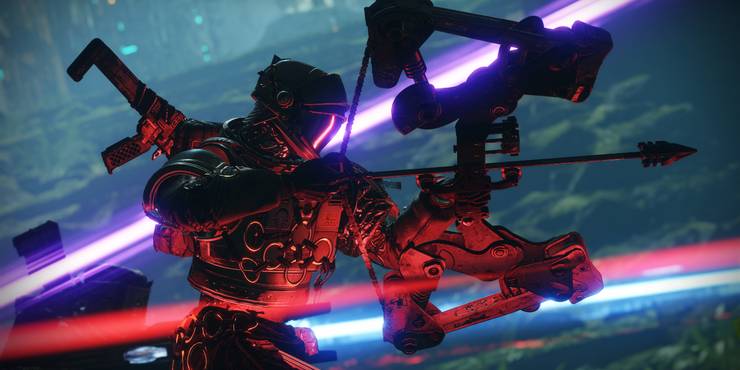 In the Destiny 1's Wrath of Machine raid, a major-level enemy called Rahndel, the Perfected had a chance of spawning with Randal's signature massive amount of health. And in Destiny 2, a Reaver Vandal appears in the Winding Cove area in the EDZ with similarly large health levels. Since Destiny 2: Shadowkeep's Nightmares are incarnations of Guardians' past traumas (with lots of health), it's only fitting that Randal would return as one on the Moon.
While Randal certainly isn't the most significant addition to Destiny 2 during Festival of the Lost, it's still nice to see Bungie giving a nod to its community like this. Plus, little things like this help sell Bungie's vision for the "new era" of Destiny as a "single, evolving world." It's still up for debate whether Destiny 2: Shadowkeep and Season of the Undying added enough compelling new content, but Randal is a welcome addition, either way.
Destiny 2 is available now on PC, PlayStation 4, and Xbox One.
Source: JofusTheBeast/Reddit
90 Day Fiancé: Robert Reveals How His Son With Anny Was A Special Child
About The Author

Camden Jones (430 Articles Published)
Camden Jones is one of Screen Rant's gaming features editors. He loves video games, but he's even more interested in the people who make and play them.
Visit Camden's website to see his full portfolio, including features, podcasts, and videos. You can also follow Camden on Twitter for updates on his latest work and thoughts on Destiny fashion, K-pop, and environmentalism, or you can email him at [email protected]
More From Camden Jones