---
Doug Jones Interview: Hocus Pocus 2
---
After nearly 30 years of waiting, the Sanderson Sisters are returning to Salem in Hocus Pocus 2. The film will see three aspiring teenage witches accidentally awakening the evil trio by lighting the Black Flame candle, and must find a way to stop them before it's too late.
Bette Midler, Sarah Jessica Parker, Kathy Najimy and Doug Jones are all reprising their roles for Hocus Pocus 2, with the cast also including franchise newcomers Whitney Peak, Lilia Buckingham, Belissa Escobedo, Hannah Waddingham, Tony Hale, and Sam Richardson.
SCREENRANT VIDEO OF THE DAY
In anticipation of the film's Disney+ premiere, Screen Rant spoke exclusively with star Doug Jones to discuss Hocus Pocus 2, the long road to getting the sequel off the ground, his confidence in the film, his thoughts on a potential Hellboy 3, and more.
Doug Jones Talks Hocus Pocus 2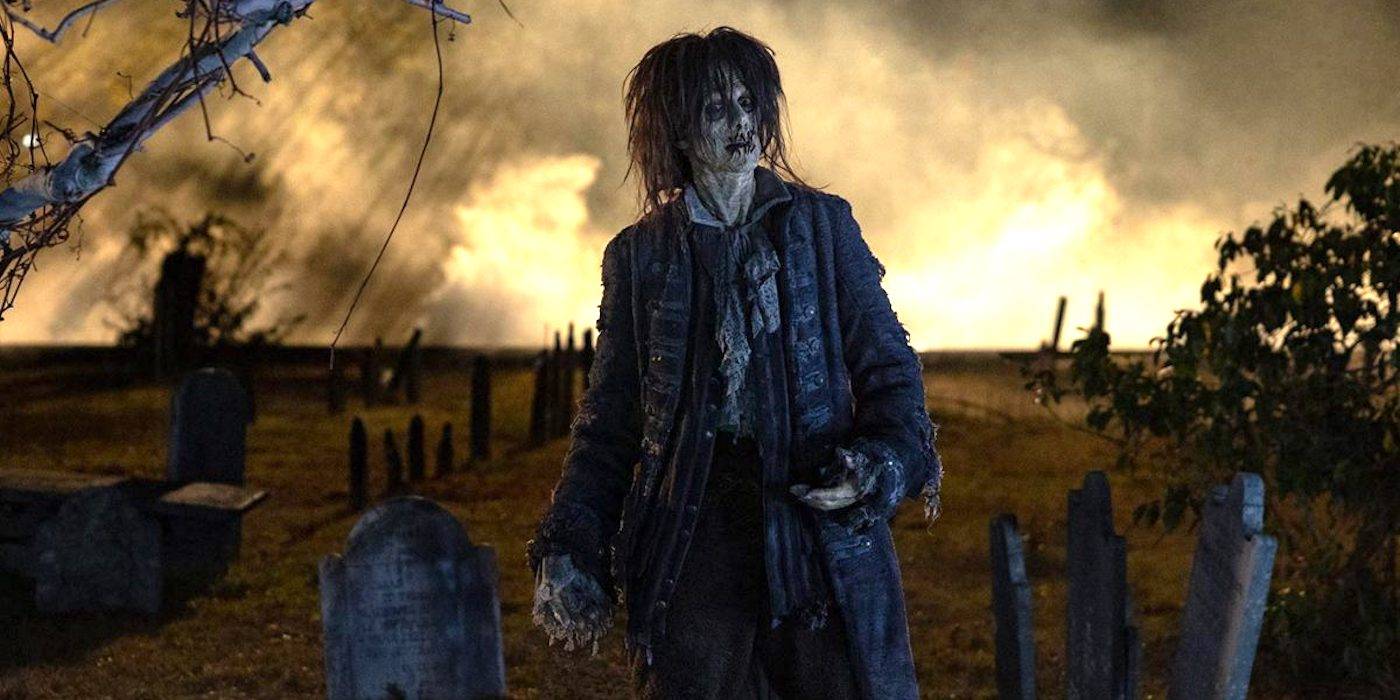 Screen Rant: It's exciting that we get to have you back as Billy for Hocus Pocus 2. This was a sequel that has been in the works forever. How did it feel when you finally heard the news that it was going to be moving forward?
Doug Jones: The fans have been rumbling about it forever. But I was at the 20-year anniversary screening of Hocus Pocus nine years ago at the Disney lot. One of our producers, David Kirschner, was there talking with my makeup artist, Tony Gardner, and they were conversing about the sequel that they were pitching to the studio. That's when I realized, "Oh, it might actually happen," and then here we are nine years later, finally. So in the meantime, there's been a lot of rumors and more fan art with like, "Here's the poster," and it's like, "Wait, someone has really good PhotoShop skills, but that's not happening yet." [Laughs]
Finally, to have a call from Ralph Winter, our producer that was our feet-on-the-ground producer from the first movie, him call me back and say, "Hey, we are back, and they want you back, and here's the deal." I anticipated and hoped, but never thought like, you never expect like that I'm gonna get to reprise the role that I loved playing 29 years later, it was a lovely surprise and very nostalgic.
Legacy sequels can sometimes struggle when they've been X amount of years after the original. How did you feel when you saw the script for this one? Did you feel confident that it was living up to the legacy of the original?
Doug Jones: I sure did, especially hearing that the three witches had returned as well, when Bette and Sarah and Kathy had all signed on to come back. I don't keep in touch with Bette the time, but I knew her well enough as a professional that she wouldn't say yes, unless the script was right, or unless she had a hand in also collaborating with rewrites and making it just so, so I trust her. Also, when I first heard that our director was Anne Fletcher that kept in — our director for the first movie was Kenny Ortega with his musical dance background and his directing of films that have been big and lively and colorful, and I knew that we were in the same great hands with Anne Fletcher, with her amazing directing background with movies in which she understands comedy, she understands shapes and colors and movement as well, and she directs in a rhythm.
I felt really confident about this and going back in and getting back on set then was, I wasn't wrong, the vibe was still the same. It's more modern times now, in real life, but when you see Bette and Sarah and Kathy and me all done up in our original looks, our costumes and hair makeup, it's like, "Wow, it was almost like no time had passed at all." Everyone has the same personalities, we all clicked back into our characters so easily with all the quirks and idiosyncrasies and the relationships were still there. I still had biting comments back and forth with Winifred, it was all in place, and Billy came back to me so easily. I don't know what it was, he's always been living in me all these years. [Laughs] He kind of woke up again with the costume, makeup and hair going back on, it was kind of easy.
We've seen BTS teases of Billy's look, and it looks very much like the original. Were any changes made, or is it still very much the Billy that audiences have come to know and love from the original?
Doug Jones: If you put Billy from 29 years ago and Billy from the new movie side by side, you would not be able to tell the difference. Honestly. In fact, my same makeup artist, Tony Gardner, and his outstanding studio created my look again off of the original. I was surprised to see that my wig had been on a dummy of me on display all these years at David Kirschner's house, one of our producer's houses. It is a little personal museum, and we borrowed the wig back, so I wear the exact same hair, I didn't even have to tease it, it was already ready to cut.
That's awesome, that's a fun little extra reprisal for you there.
Doug Jones: I also had the advantage of having a layer of skin over my own. So I have not gained a pound in all those years, so it doesn't matter how much Doug Jones has aged underneath it, you put that prosthetic bony face, wrinkly zombie look back on me, and that rubber piece has not aged at all. [Laughs]
It works out in your favor, then. What can you tell us about how you come back? Because in the first film, you were resurrected by Winifred to hunt down their book.
Doug Jones: Right, the tease of how is already hinted at in that early teaser trailer that you might have seen, it went by fast, but there was a shot of my gravestone, that recognizable, "Here lies William Butcherson," and a shovel going into the ground right by it, and it went by that fast. So with a shovel, I think that indicates that it's not a magical resurrection so much as a practical one.
We've already talked about how I spend a lot of my time in the movie with Gilbert, the character who manages and runs the Sanderson Museum, which is the Sanderson sisters' house, it's been turned into a museum and gift shop. So I spent a lot of time with him throughout the movie, and he's played by the brilliant and hilarious Sam Richardson, I had so much fun playing with him in this movie as well. I guess that's all the hinting and teasing I can give you. [Laughs]
I'm a huge fan of Sam Richardson. What kind of dynamic can you tease is there between you two in the film?
Doug Jones: It was kind of like doing a buddy film. Hocus Pocus is happening from start to finish, and you'll see us popping up here and there and doing our own little buddy film off to the side. [Laughs] It was hilarious, and watching him work is a dream, too, Sam was great. He's great at turning scripted material into his own funny timing, and then he'll also ask for another take, so he can repeat and try a line over again or add his own little flavor to it, and he's got great improv skills, so he was an absolute dream to work with.
Well, I certainly look forward to seeing how the two of you interact on screen then because I think that's going to be a wonderful pairing.
Doug Jones: I can tell you that Billy has his grumpy side. Even though my mouth is already cut open, because I cut my mouth open at the end of the first movie, spit out my hateful lines at Winifred and when I went to sleep, I have my mouth open. So, when I wake up, my mouth is already cut open, so I come out talking this time, and I'm not happy about
Billy looked like he was ready for a rest at the end of the first movie, so I'm sure he's not ready to be woken back up again.
Doug Jones: It'll all be explained how much rest I actually get, and, how's this all working.
Much like Hocus Pocus 2, everybody has been holding out hopes for a Hellboy 3 at some point and with Ron and everybody back, what are your thoughts on that?
Doug Jones: Yeah, every time any of us voice up and say, give our feelings about wanting to do a Hellboy 3, it turns into a fan frenzy of, "You guys, it's happening," and it's absolutely not how it works. So I need to put that as a preface. [Laughs] My desire to come back for Hellboy 3 has absolutely no bearing on it being actually made, I don't wield that kind of power in Hollywood, I don't know if you knew that or not. [Laughs] I can't make a big studio cough up $150 million.
But yes, were there a Hellboy 3 to be made, if there were to be one, and if Guillermo del Toro was coming back to direct and Ron was coming back to play Hellboy and Selma was coming back to play Liz Sherman, I would absolutely 100 percent come back as Abe, in that scenario, yes. But we have to we have to look at reality, and once a reboot has been made, it's hard to go back again. So I don't know, I don't know.
That is a fair point. My counter would be that Spider-Man: No Way Home brought back both Tobey and Andrew, so the door's always open in audience's minds.
Doug Jones: Which was a great [concept], if we can find a way to mash up our universes, I would love it.
I think that it would be a fun one to see. Did you see the reboot as well when it came out?
Doug Jones: I did, yeah, and David Harbour did a great job. Of course, my big brother Red played by Ron Perlman is what I'm more used to, I guess. David did a great job, I thought, but aside from acting and all, it was a different tone, because it was also not a Guillermo del Toro film either. It has its merits, I can't say anything bad about it.
Hocus Pocus 2 Synopsis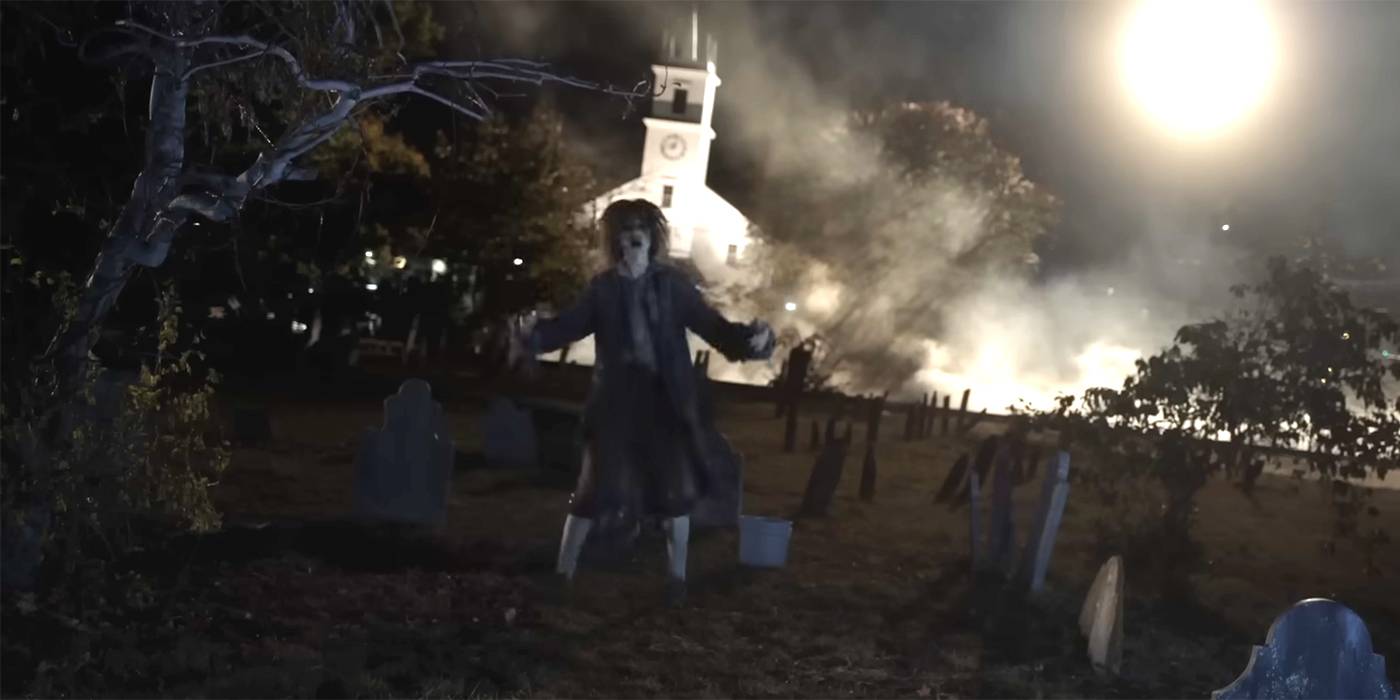 It's been 29 years since someone lit the Black Flame Candle and resurrected the 17th-century sisters, and they are looking for revenge. Now it is up to three high-school students to stop the ravenous witches from wreaking a new kind of havoc on Salem before dawn on All Hallow's Eve. "Hocus Pocus 2" also stars Sam Richardson ("The Tomorrow War"), Doug Jones ("The Shape of Water"), Hannah Waddingham ("Ted Lasso"), Whitney Peak ("Gossip Girl"), Belissa Escobedo ("American Horror Stories"), Lilia Buckingham ("Dirt"), Froy Gutierrez ("Teen Wolf"), and Tony Hale ("Veep"). The film is produced by Lynn Harris ("King Richard," "The Shallows"), with Ralph Winter ("Hocus Pocus," "X-Men" franchise), David Kirschner ("Hocus Pocus," "Chucky"), and Adam Shankman ("Disenchanted," "Hairspray") serving as executive producers.
Hocus Pocus 2 begins streaming on Disney+ on September 30.
Key Release Date
Hocus Pocus 2

Release Date: 2022-09-30