---
Fear The Walking Dead: Luciana Season 6 Oil Zombie Callback Explained
---
Here's the strange callback to Luciana and June's first meeting during a season 6 episode of Fear The Walking Dead explained. The Walking Dead became must-watch TV after it debuted on AMC in 2010. The show was based on the popular graphic novel by Robert Kirkman, which dealt with a police officer named Rick Grimes waking from a coma to find the world overrun by zombies. The comic was created by Kirkman as a way to experience a constantly evolving zombie movie, and while the series adaptation toned down some of the more extreme moments from the source material, it had plenty of gore to keep horror fans happy.
SCREENRANT VIDEO OF THE DAY
During its early seasons, The Walking Dead – where Daryl is getting his own show – only seemed to grow in popularity, and it became a franchise in its own right. It received various video games, novels and webseries, and in 2015 it spawned its first spin-off show with Fear The Walking Dead. This initially followed a dysfunctional family experiencing the earliest days of the zombie outbreak, but it later evolved into a very different beast that is now arguably more popular than the series it was spun off from.
Luciana Galvez (Danay Garcia) was first introduced in Fear The Walking Dead season 2 episode "Grotesque," as a scout for the long since abandoned La Colonia. Luciana has had an impressive run on the show, as she's outlived other major characters such as Nick Clark (Frank Dillane), her former love interest in season 4. The latter series also introduced Jenna Elfman's June, a former nurse who would become an important figure in later seasons. In season 6's "Bury Her Next To Jasper's Leg," June is tasked with saving lives following an oil field explosion. June also makes a comment to Luciana about how they first met amid some horror involving oil. This is a callback to Fear The Walking Dead season 4, where June was introduced.
Fear The Walking Dead's Oil Zombie Callback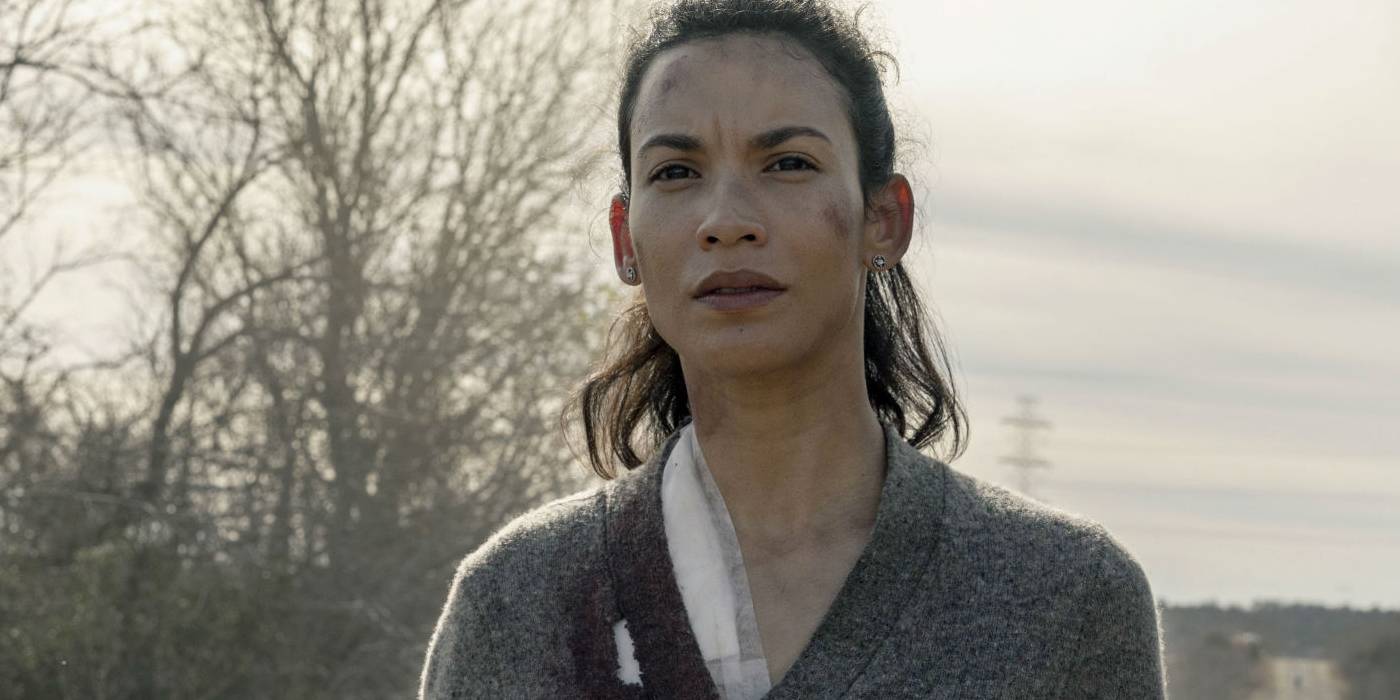 In season 4's "Another Day In The Diamond," June – or "Naomi" as she was known at the time – encounters Madison's (Kim Dickens) group, including Luciana. June held the group at gunpoint when they happened upon her in an abandoned town, and retreats up to the top of an oil tank to get away from them. In a panic, she falls in through an opening and realizes she's surrounded by oil-soaked zombies. Madison – who will soon return to the series  – jumps in to help her fight them off, and the others soon open the tank, spilling them – and the undead – out.
It makes sense such a nightmarish encounter would stick with June when she makes the callback in Fear The Walking Dead season 6, though it's such a cryptic reference it passes some viewers by.