---
Ghostbusters: Afterlife Covers Compare New & Original Cast
---
Empire has unveiled two new covers for Ghostbusters: Afterlife, comparing the new and original casts. Ghostbusters: Afterlife is the latest entry in the Ghostbusters franchise and the closest thing to a sequel after the first two films in the series. In 2016, a reboot from director Paul Feig, starring Melissa McCarthy, was released but failed to reignite the franchise. Now, director Jason Reitman (son of original Ghostbusters director Ivan Reitman) is directing the follow-up film, which takes place more than 30 years after the last film, Ghostbusters II.
Ghostbusters: Afterlife stars Paul Rudd, Mckenna Grace, Carrie Coon, Finn Wolfhard, and Logan Kim, with the original cast said to be making an appearance in some capacity, including Bill Murray, Dan Aykroyd, Ernie Hudson, Sigourney Weaver, and Annie Potts. The film was screened at CinemaCon earlier this year and received a very warm reception, with many calling it the sequel fans have always wanted. The film is slated to release in theaters on November 19th and will be a theatrical-only drop, rather than a day-and-date theatrical/streaming film.
SCREENRANT VIDEO OF THE DAY
There have been many trailers and TV spots for Ghostbusters: Afterlife thus far and now the promotional campaign is beginning to get underway, including two new covers from Empire, which focus on the new and original casts. One of the covers features both the original crew from the first two films with the new cast on the opposing side and a raging Stay-Puft Marshmallow Man at the center, while the other features an illustration from Justin Metz showing off the mischievous tiny Stay-Puft Marshmallow Men. The issue will be on newsstands on September 30th and feature an interview with both Jason and Ivan Reitman. Check out the covers below: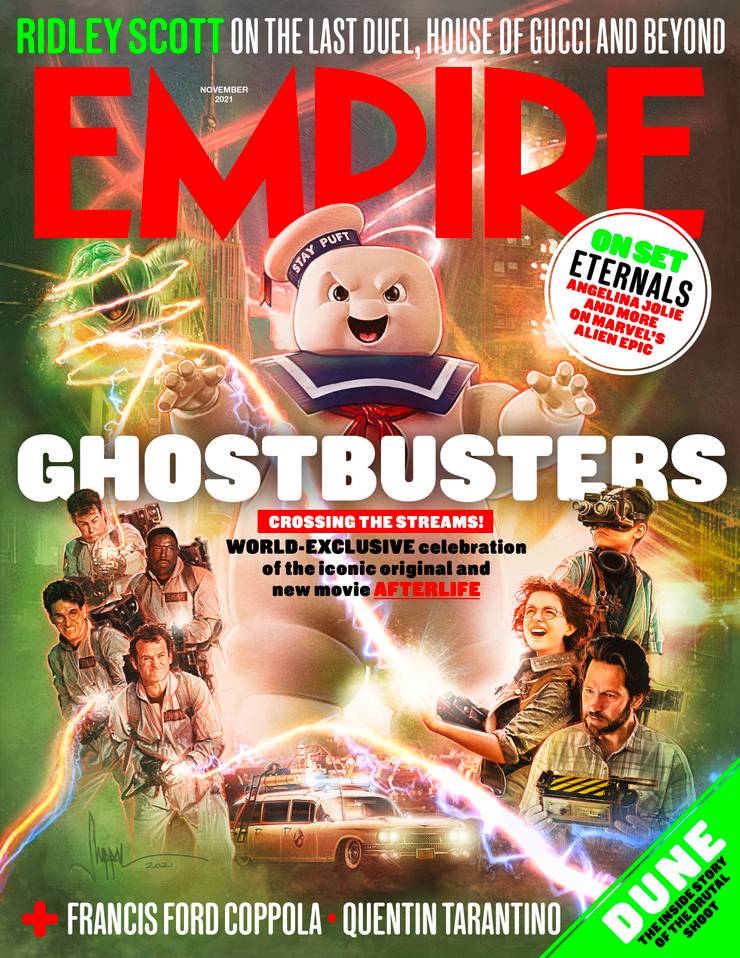 Ghostbusters: Afterlife was originally slated to be released a year ago, but suffered from the same pandemic delays that most big Hollywood films did. Recently, Top Gun: Maverick flew to 2022, leaving the November 19th weekend open for Ghostbusters: Afterlife, which leads into the often lucrative Thanksgiving holiday. The film is one of many that are finally getting their due after a long wait during these unpredictable times.
Having the Reitmans involved so heavily in Ghostbusters: Afterlife is one of the key aspects that lends to its potential. The 2016 film struggled to find an identity as a hard reboot, which was a massive miscalculation in underestimating what makes the brand so endearing. The original cast and filmmakers are what built the franchise and seeing as they're still around, it always felt like a disservice to not bring some closure to their legacy. Ghostbusters: Afterlife looks to be headed exactly in that direction and could be just what the franchise needs to truly reboot while honoring the past at the same time.
Source: Empire
Key Release Dates
Ghostbusters: Afterlife (2021)Release date: Nov 19, 2021
The Batman's Best Villain Change Is Falcone (Not Penguin Or Riddler)
About The Author
Paul Shirey (703 Articles Published)
Paul Shirey is a senior news writer for Screen Rant. Formerly the Editor-in-Chief of JoBlo.com, he has over a decade of writing and reporting about the entertainment industry and has covered everything from Comic Con to CinemaCon to Star Wars Celebration, as well as covering numerous set visits and junkets all over the world. He is passionate about film, comics, TV and spends way too much on collectibles. A proud father, a combat veteran, dog lover, gym rat, coffee enthusiast and all around equal opportunity doughnut devourer, you can follow his daily exploits on Twitter and Instagram, as well as YouTube Videos on The Arctic Ninja Network.
More From Paul Shirey