---
Godzilla: King of the Monsters SDCC Poster – Godzilla vs. Ghidorah
---
Godzilla takes on his most ferocious opponent yet – the three-headed King Ghidorah – in the San Diego Comic-Con 2018 poster for Godzilla: King of the Monsters. Copies of the poster were made available to SDCC attendees during the event, but the one-sheet has now been formally unveiled online too.
King of the Monsters is the third installment in Warner Bros.' MonsterVerse cinematic universe, which Gareth Edwards' Godzilla kicked off in 2014, followed by Jordan Vogt-Roberts' Kong: Skull Island last year. In addition to the poster, WB debuted the first Godzilla: King of the Monsters trailer during its Hall H panel at SDCC 2018. The preview, which is set to the melodic tune of Claude Debussy's rendition of "Clair De Lune", offers the first look at the MonsterVerse versions of three famous Godzilla opponents in the film – Mothra, Rodan, and King Ghidorah – along with the eponymous "Titan" himself, firing his atomic breath off into the atmosphere.
SCREENRANT VIDEO OF THE DAY
Related: King of the Monsters Has Renamed the MonsterVerse's MUTOs
Godzilla's not-so-pleasant breath will come in handy in Kings of the Monsters, especially when the giant monster has to take on other creatures of equally massive size. The SDCC poster teases one such throw-down between the big guy and King Ghidorah, who has the advantage of having three heads and being able to fly, when he battles Godzilla. You can check out the King of the Monsters Comic-Con artwork below (h/t Godzilla-Movies):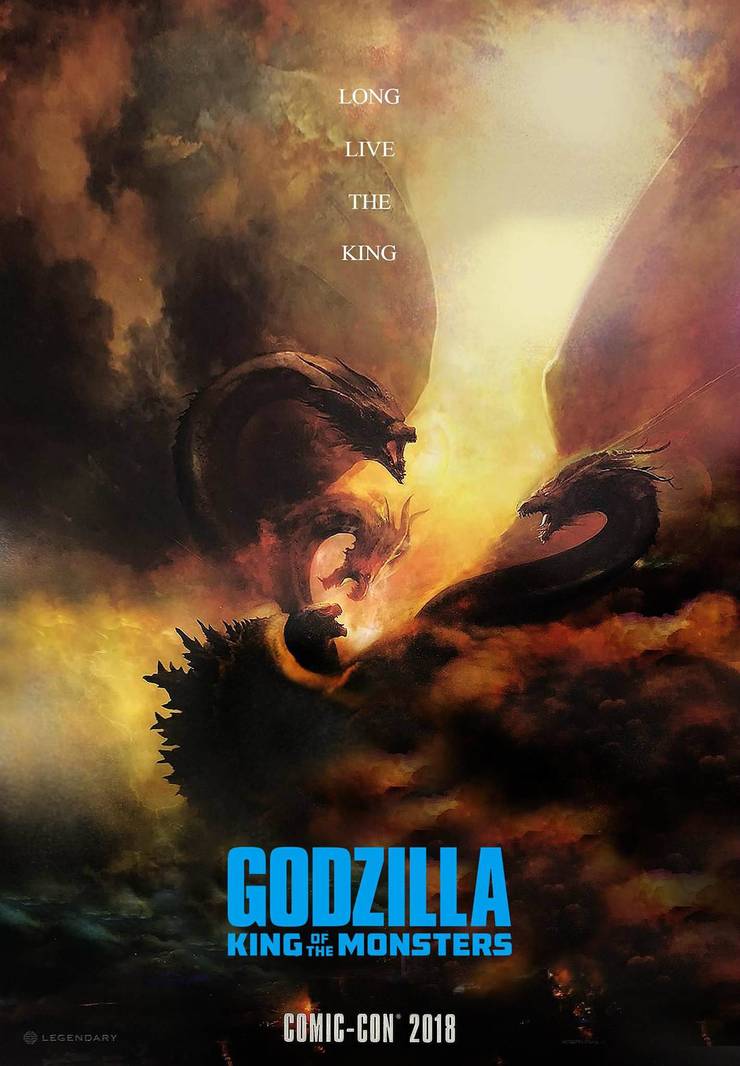 Judging by the SDCC poster, King Ghidorah will be the largest and most powerful of the Titans in King of the Monsters. That's nothing out of the ordinary for the Godzilla franchise (he's called "King" for a reason), but it also suggests that Ghidorah will ultimately serve as the true big bad in the film. There's a precedent for Godzilla, Mothra, and Rodan teaming up to protect humankind from Ghidorah that goes back all the way to the character's first appearance in 1964's Ghidorah, The Three-Headed Monster. As such, it stands to reason, that something similar will also transpire during King of the Monsters.
It's further speculated that Vera Farmiga and Millie Bobby Brown's characters are the key to defeating Ghidorah in King of the Monsters. The duo play Monarch scientist Dr. Emma Russell and her daughter Madison in the film and have been featured heavily in WB's marketing thus far. Based on Farmiga's previous tease that Emma knows how to communicate and potentially control the monsters in the movie, it's plausible she will be the one who gets Godzilla, Monthra, and Rodan to cooperate and work against the self-declared King of monsters in the first place.
MORE: Godzilla 2 Theory: Charles Dance is Older Tom Hiddleston from Kong: Skull Island
Source: Godzilla-Movies
Key Release Dates
Godzilla: King of the Monsters (2019)Release date: May 31, 2019
Godzilla vs. Kong (2021)Release date: Mar 31, 2021
Guardians Of The Galaxy 3's Villain Risks Repeating A Big Eternals Mistake