---
House Of The Dragon Star Reflects On Filming Brothel Scene With Daemon
---
Warning! Spoilers ahead for House of the Dragon episode 4.House of the Dragon star Milly Alcock reflects on what it was like to film episode 4's graphic brothel scene with Matt Smith's Daemon. Based on the novels from author George R.R. Martin, House of the Dragon chronicles the events of the Targaryen civil war about 200 years before the timeline of Game of Thrones. The show's premiere broke HBO viewership records, introducing audiences to Alcock's Princess Rhaenyra, Paddy Considine's King Viserys, Emily Carey's Alicent, and Rhys Ifans' Otto, among others.
SCREENRANT VIDEO OF THE DAY
After an action-packed episode 3, which saw Daemon boldly defeat the Crabfeeder (Daniel Scott-Smith) and quell the rebellion in the Stepstones, the hot-headed prince returned to King's Landing. Frustrated with her father's constant pleas for her to find a husband, Rhaenyra joins Daemon for a night out on the town, and the two eventually find themselves in a brothel. The graphic scene sees Rhaenyra and Daemon traverse the brothel, witnessing a variety of sexual acts before kissing amidst the other patrons. House of the Dragon fans shared their thoughts about the scene on social media as it aired, and now Alcock breaks down what it was like to film.
Speaking to the New York Post, Alcock explains that she and Smith worked with an intimacy coordinator months ahead to plan exactly how they would perform their romance scene. The actor also says that, since she and Smith are "mates," it wasn't as uncomfortable to film as it was to watch. Alcock explains that she and Smith weren't allowed to see the brothel set ahead of time, making for a "shocking" and "gnarly" experience as they walked through the scene for the first time during filming as extras performed simulated sexual acts around them. Check out the actor's full comment below:
"No, strangely enough. [Matt Smith and I] were just kind of mates. So, it was quite comfortable. We had an intimacy coordinator, and we worked with her through the rehearsal process and blocked it out months before.

Clare Kilner, our director, made sure that we hadn't seen any of the brothel stuff until we were shooting. So, that was our first time walking through the brothel, and he's guiding her through the room with all of these other bodies. So, that was quite shocking. You're like, 'This is kind of weird and silly.' There were extras who we had just met who were like, 69-ing for 12 hours. It's pretty gnarly. We felt pretty overdressed, because everyone else was nude."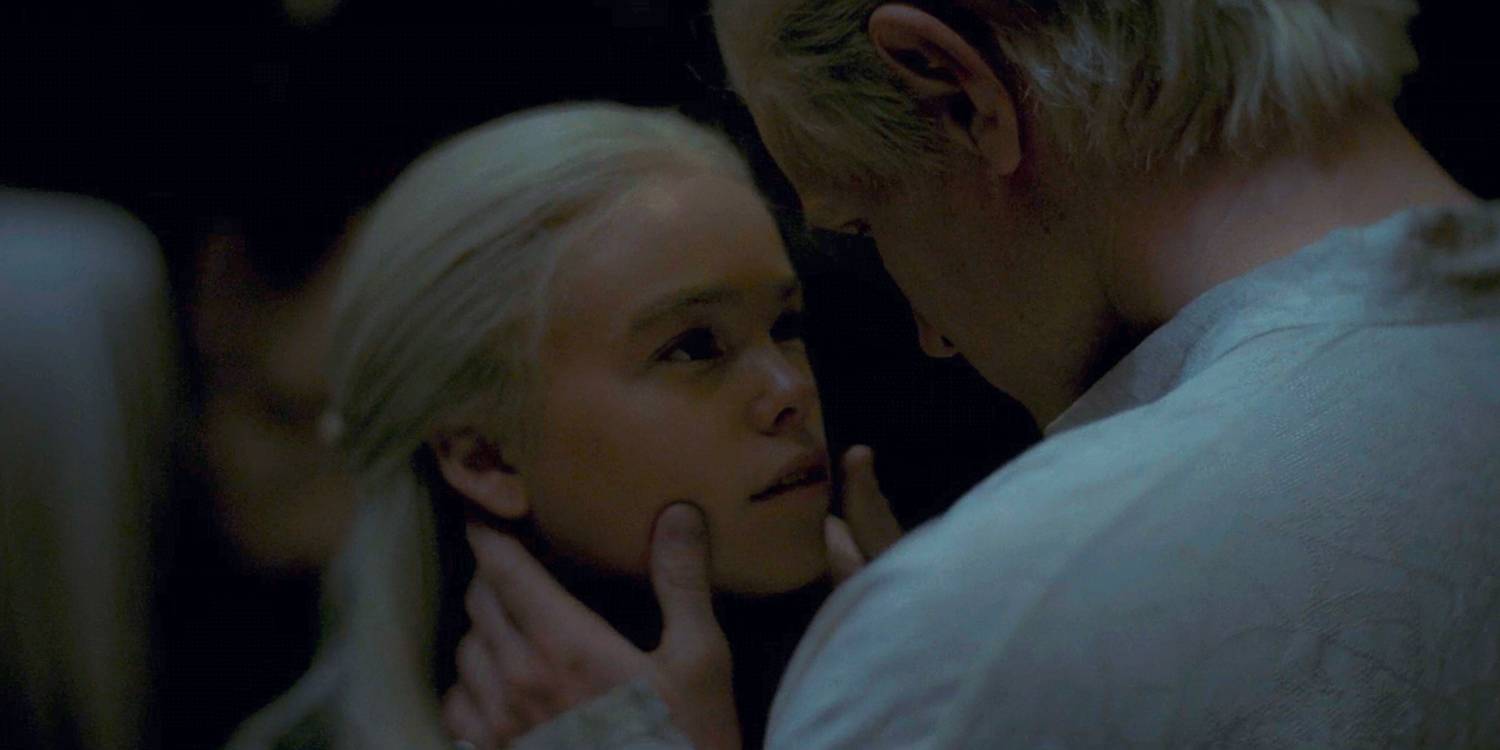 The brothel scene in House of the Dragon is not just shocking for viewers, but it's also meant to be a little jarring for Rhaenyra, who has lived a relatively sheltered life. Kilner's decision not to let Alcock see the set ahead of time allowed Alcock to portray what Rhaenyra is going through in those moments more honestly. It's also not surprising that she and Smith worked with an intimacy coordinator for their romance scenes. HBO now makes it standard practice for intimacy coordinators to participate in productions featuring nudity and sex scenes.
Game of Thrones viewers will undoubtedly be accustomed to the graphic nudity accompanying a Westeros journey. Still, House of the Dragon episode 4 had the added shock value of featuring a romance between an uncle, Daemon, and his niece, Rhaenyra. It remains to be seen what the consequences of Rhaenyra's journey into the brothel will be. Still, the character is no longer the somewhat naive princess she was before, setting the stage for the show's upcoming time jump. Although the most recent episode of House of the Dragon was graphic and surprising, Alcock's comment suggests that great care is taken behind the scenes to ensure the on-set environment is as controlled as possible.
Source: New York Post