---
IT: Post-Credits Tease Explained
---
The 2017 IT movie may not have a proper post-credits scene, but it does still have a pretty awesome tease snuck in at the very end of the production names that whets your appetite for Chapter Two.
All things considered, IT ends on a rather happy note. The Losers' Club has overcome their deepest fears to seemingly beat terrorizing entity Pennywise and, while they're going separate ways, the seven have made a blood pact that links them together on the promise they'll return should IT return. All that's left is for them to fade into the distance and wonder if they'll ever have friends like this again (Jesus, does anyone?).
SCREENRANT VIDEO OF THE DAY
Related: Where Do You Recognize The Cast of IT From?
But this isn't really the end. A sequel that will tackle the unadapted half of Stephen King's novel is already set for 2019, following the middle-aged Losers' Club returning to Derry to finish off the inter-dimensional creature that grips their town once and for all. And while Andy Muschietti and writer Gary Dauberman mostly focused on a Stand By Me evoking final note, they couldn't resist a cheeky tease of the horror's to come.
What's In The Post-Credits Tease?
There's not a full scene like audiences have become accustomed to thanks to Marvel and their shared universe ilk, but IT still has a rather revealing audio tease. As the lengthy credits come to the end, you can hear a chorus of creepy kids singing "Oranges and Lemons", the song that across the movie has become synonymous with the fear-feeding creature.
Then the audio equivalent of a money shot – Pennywise laughs; at the very, very end of the credits we get a full, unbridled laugh from the clown we last saw dissolving and falling down a never-ending shaft in the Derry sewers.
What The Laugh Means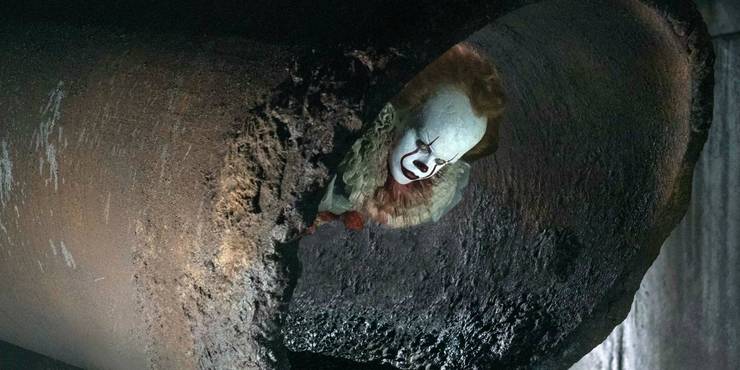 It's a slight audio moment that few will have stayed for (in part due to the lack of reporting of anything after the credits) and even fewer will have felt was worth the wait. However, this is a pretty major reveal in the story, one that realigns the jolly ending we just saw.
In short, it signals to the audience that Pennywise has survived. The Losers were able to beat back the clown form of IT and through that cause serious damage, but they didn't make a killing blow; he's resting, waiting the 27 years until he needs to feed again – and he's already relishing the terror he'll cause.
Related: IT Movie: Remake or Readaptation?
The singing children, however, present something a little darker. The movie's illusory happy ending made it seem like the children Pennywise had been ensnaring and storing up around his debris tower had their souls released – they literally stopped floating – but now that all looks like a show; the singing suggests the army that patrolled the Derry sewers is still ensnared by the creature, forced to sing about the bells of St. Clements forever.
More than a depressing coda, this could set up some interesting developments in the sequel, specifically in regard to Georgie; if Bill Denbrough's brother is still under IT's control, we could see Jackson Robert Scott return to torment his now-adult brother.
Of course, that second part is up to speculation – it could just have been a creepy choice made by the filmmakers – but the tease altogether does an effective job of making their ultimate point: the fight isn't over yet.
What Other Teases Are There?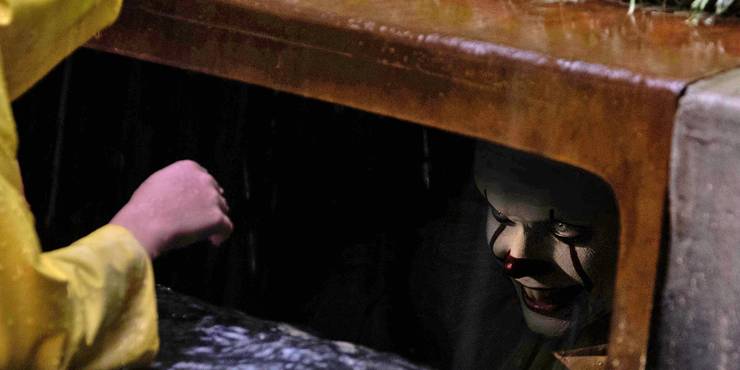 There isn't a complete absence of extra material from the movie universe. Last month, to hype up the film's arrival, Warner Bros. released a VR experience on YouTube that put you in the shoes of Georgie Denbrough after he's ensnared by Pennywise. There's no amputation effect (got to leave some gory surprises for the movie), but it takes you on a journey through the sewers, coming up against several balloon-clown jump scares, before finally putting you face to face with IT as it floats you up. It's a neat expansion that you can check out below.
You can bet Warner Bros. wish that they'd made a more detailed stinger now that IT is a bona fide box office smash; the film got the biggest horror opening of all time, bringing in more money across its first weekend than either Wonder Woman and Spider-Man: Homecoming managed. There's clear interest in Stephen King's creepy clown, so it's a shame they didn't capitalize on it with a reveal of the older Losers' Club (of course, they're not cast yet, but that's further weak forward planning) or a dive into Pennywise's past (a couple of examples of which were in early versions of the script but later cut).
But, while it's anemic, we still got a chilling promise of more terror to come in Chapter Two. IT floats.
Next: The Original Script for IT Was Insane
Key Release Dates
IT (2017)Release date: Sep 08, 2017
Guardians Of The Galaxy 3's Villain Risks Repeating A Big Eternals Mistake
About The Author

Alex Leadbeater (1121 Articles Published)
Screen Rant's Managing Editor, Alex Leadbeater has been covering film online since 2012 and been a permanent fixture of SR since 2016. Based in London, he oversees a global news & features team based in NY, LA and beyond. You may have also seen/heard him on the Total Geekall podcast, unaffiliated YouTube channels, BBC Radio and CBC News.
Growing up in the English countryside on a mixture of Star Wars, The Simpsons and Aardman, Alex is a lifelong movie obsessive. Despite a brief jaunt in Mathematics at Durham University, film writing was always his calling. He's covered a wide range of movies and TV shows – from digging out obscure MCU Easter eggs to diving deep into deeper meanings of arthouse fare – and has covered a litany of set visits, junkets and film festivals. He once asked Tom Cruise about his supposedly fake-butt in Valkyrie (he swore it was all real).
More From Alex Leadbeater