---
John Boyega, Lashana Lynch & Sheila Atim Interview: The Woman King
---
Highly-anticipated African historical epic The Woman King is finally in theaters. Directed by Gina Prince-Bythewood (The Old Guard, The Secret Life of Bees), produced by TriStar Pictures in association with eOne, Jack Blue Productions, and JuVee Productions, and distributed by Sony Pictures Releasing in the US, the film tells the story of the Agojie, the all-female military regiment of the Kingdom of Dahomey, a West African Kingdom which ruled for over three centuries in a territory that sits within the borders of present-day Benin.
SCREENRANT VIDEO OF THE DAY
Some may recognize the Agojie as the primary real-life inspiration for the Dora Milaje, originally created by writer Christopher Priest in 1998 during his run on Marvel's Black Panther series and notably immortalized in Ryan Coogler's Black Panther. The Woman King, however, presents these fierce warriors in a traditional context, with historical roles presenting the exact women who defied norms as ably as they fought back the enemies of the Dahomey. Prior to the start of the film, John Boyega as King Ghezo has already taken leadership of the Kingdom following a coup against his brother, and he has Nanisca (Viola Davis), Izogie (Lashana Lynch), Amenza (Sheila Atim), among others, to thank.
Screen Rant spoke with John Boyega, Lashana Lynch, and Sheila Atim about rare performances of royalty, inspiring leadership, and owning one's own physicality through a weapon.
Stars On The Woman King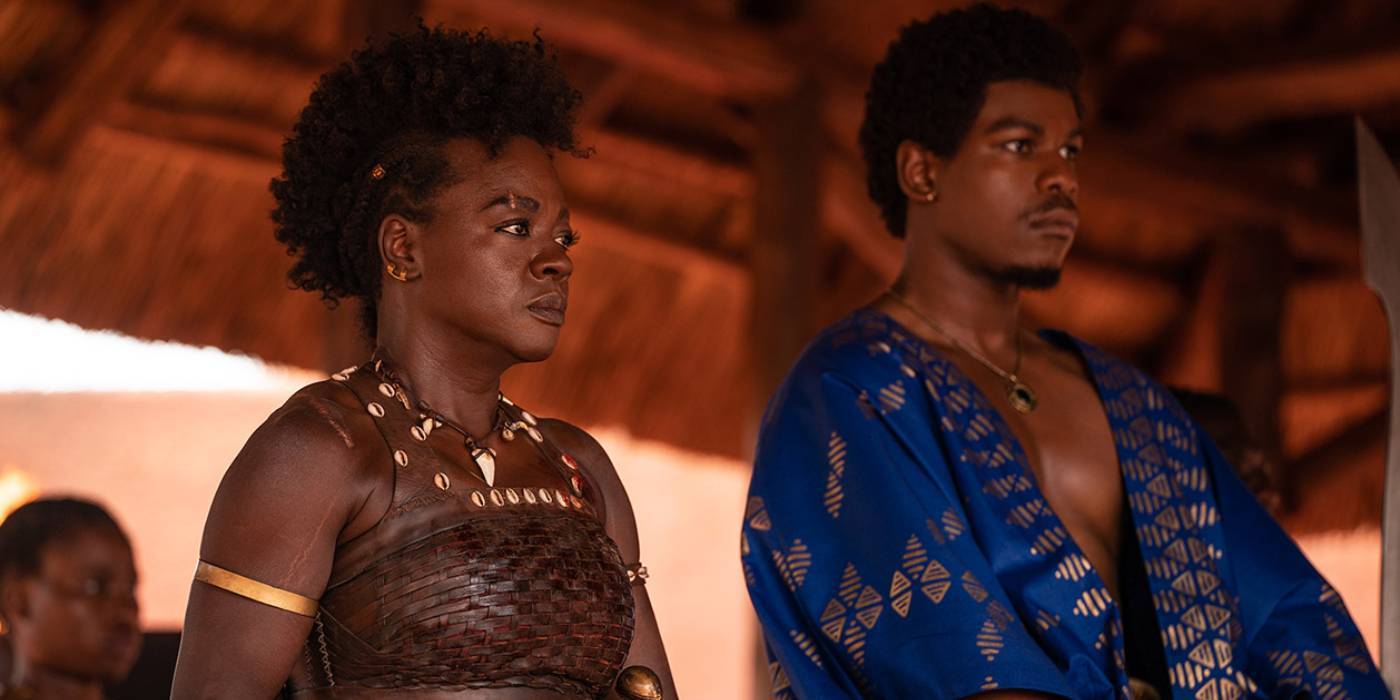 I saw The Woman King and it kicked absolute ass. Mr. Boyega, I feel like you brought something really different this time to this particular role. In all your variety of career roles, I don't think I've seen you be "kingly." What do you feel you mustered to represent King Ghezo?
John Boyega: It was a balance for me. Definitely a feeling of somebody that knows he's in the position of leadership, and sometimes that shows itself as an extroverted confidence. The way you walk, the way you speak, the fact that you are not really aware of other people's energy, so you'll take extra time to say something, because you know you can. That requires a different type of movement. Whereas, I've played characters in the past that are afraid of their environments, afraid of where they're at, are moving on to the next place. This one is just like, "Everybody slow down – I'm thinking."

It's like, there's something about that command that was definitely intertwined with the dialogue, with our amazing scripts, and obviously my collaboration with Gina in terms of building up this character.
Watching the film multiple times, I'm thinking I'm seeing some Prince. Like, you're saying, "Hi, I'm gracing you, you're lucky that I'm gonna sit down in front of you now."
John Boyega: Yeah, I mean, I was sat as King Ghezo and they were bringing me gifts! It's the nonchalant attitude that you would see during that time, especially with kings' interactions with people from the outside world. Not knowing their intention, not knowing how they would like to interact with your people, and not knowing whether or not these people from these foreign lands would be of service to your people and to your family. So that was definitely put into the scenes as well.
Right. Distance and space. Like, I don't really know you, and you're not getting anything from me.
John Boyega: Yeah, like, you brought a nice gift…but sit down. We have to talk business.
Ms. Lynch, I was really inspired by your characterization in The Woman King, especially because I saw the Agojie as a group of warriors quite different from what we've seen before. It didn't feel like a group under one single leader, but with multiple leaders, always bringing on the next generation. And yet Izogie seemed like the most personable. Someone with great experience who doesn't ever condescend to those around her. And I was wondering, was there someone in your life like Izogie? Because I certainly had heroes like her.
Lashana Lynch: Oh, oh, that's really nice. I feel like with every character I play, I'm trying to draw from the experiences in and around me and I've had to, you know, take moments from my mom, and from friends of mine, and teachers that I've had over the years, mentors that I've, um, come across, who have taught me a lot about myself. And in playing a character who is trying to teach young women about themselves, and their strength, and trying to literally draw out their deepest power outside of themselves, it's important to take from the people around you.

So, I don't think there was one person that I based Izogie on, but I do know that halfway through the training, I thought, oh, she's literally like our personal trainer, Gabby McClain. I was able to go to training and actually like, take little bite-size characterizations from her, and bring it to work, which was really nice actually.

Which means that Izogie can spread far and wide; outside of our culture, in different institutions, in education, students, and heads of companies. I think everyone can take a little bit from her might and her power, and how she uses humor and lightness of touch to, to teach and impart wisdom on others. So, I'm grateful I was able to take a little, a bit of each of the powerful people in my life and inject it into Izogie.
And, in comparison, Ms. Atim, as Nanisca's confidante, you're a little bit of the opposite. There's some distance between you and the other characters. Even your weapon represents distance. It's like, I'm over here, you over there! Where do you see her within the wider organization of the Agojie?
Sheila Atim: Yeah, that's true. Amenza, I think…what's so beautiful about that is, as you say, she's very much in contrast to Izogie. But, you know, the two of them are helping cover the bases, in terms of flanking Nanisca, and providing alternative forms of leadership and council to the people within this army. Amenza is Nanisca's best friend as well. So she's also not just, you know, a council in terms of military matters and spiritual matters, but also just as a friend. I think that's really important to see, because—and you do see that with Izogie as well. Like, there's an emotional side to all of this. You know, these women were not automatons, they weren't robots, they weren't emotionless. And so, yeah, I think Amenza is trying to grapple with how to engage with the emotional side whilst also keeping distance. I think distance, as you've adequately identified, is a big part of her.

It's a way of keeping order, I think. But what you see in this film is that keeping order doesn't always work, or isn't always the best way to go forward, and so she has to figure out how to grapple with that. And how to not just close down some of the distance that she creates with other people, but maybe also a distance with herself.

So, yeah, it was really fun, actually, fighting with a long weapon, because I am a long person! All my life—you know, I'm nearly 6' and I've got very long limbs as well—so all my life I've just been like, long. And this was a time when that was not an obstruction, you know? It was something that was accentuated. The stunt team, Danny Hernandez, was like, "We're gonna use your long levers. You're gonna be fighting on a spear. Your strikes are gonna be long. You know, your style is gonna be about reach and distance." So that was really wonderful, to be able to "reclaim my longness."
About The Woman King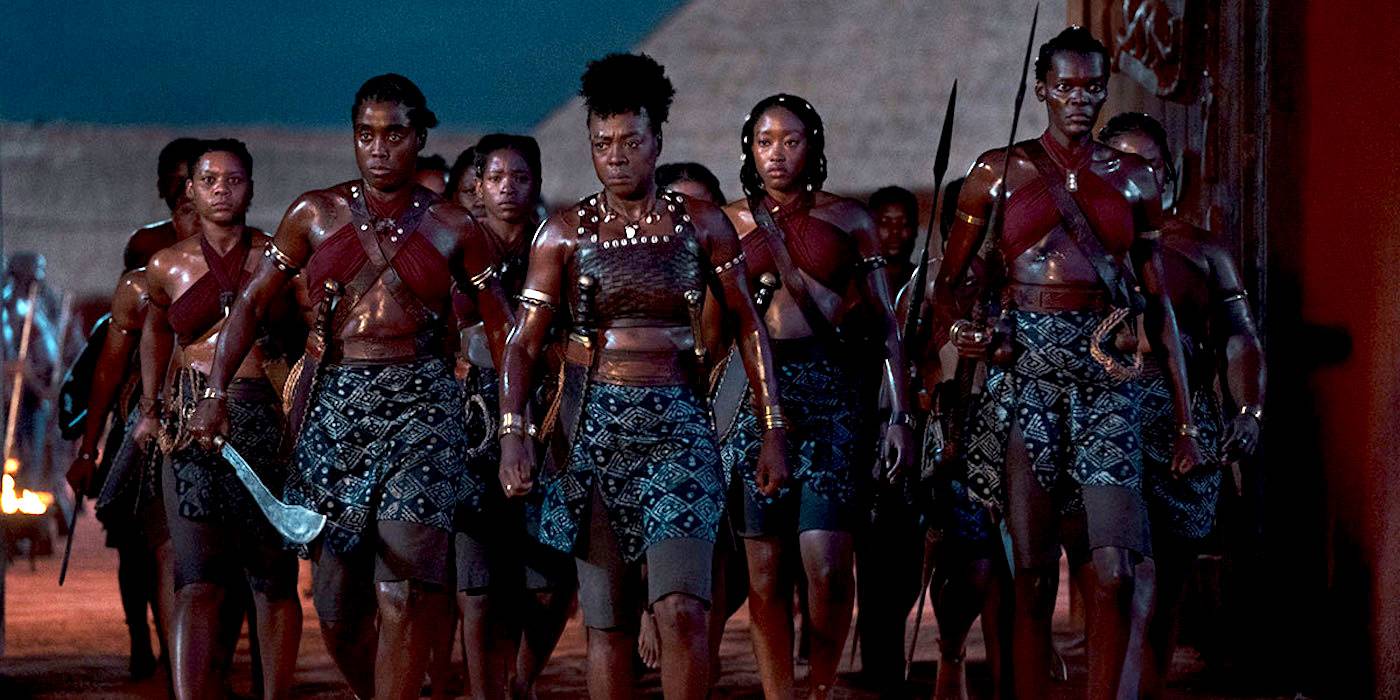 In the 1800s, a group of all-female warriors protects the African kingdom of Dahomey with skills and fierceness unlike anything the world has ever seen. Faced with a new threat, Gen. Nanisca trains the next generation of recruits to fight against a foreign enemy that's determined to destroy their way of life.
Check out our other interview with The Woman King stars Viola Davis & Thuso Mbedu and director Gina Prince-Blythewood.
The Woman King is now playing in theaters.