---
Shocking House of the Dragon Episode 4 Scene Explained By Star
---
Warning! Spoilers ahead for House of the Dragon episode 4House of the Dragon star Milly Alcock explains Rhaenyra's shocking episode 4 scene with Matt Smith's Daemon Targaryen. Taking place almost 200 years before the start of Game of Thrones, House of the Dragon chronicles the events of the Targaryen civil war. The show has earned positive reviews from both audiences and critics thus far, with particular praise levied at the show's performances and writing. After House of the Dragon episode 3 saw Daemon defeat the Crabfeeder (Daniel Scott Smith) in a brutal battle, episode 4 focused more on Rhaenyra's home life and her struggles with finding a suitable husband.
SCREENRANT VIDEO OF THE DAY
After becoming disenchanted with her array of potential marriage suitors, Rhaenyra spends a night out on the town with her uncle, Daemon. The young princess dons the disguise of a commoner and explores the streets of King's Landing, with the two eventually ending up in a brothel. Despite being related by blood, Rhaenyra and Daemon end up kissing (and more) before Smith's character eventually storms off. Adding to the drama, Rhaenyra then returns to the castle where she sleeps with Ser Criston Cole (Fabien Frankel). Although fans of Game of Thrones are no strangers to surprising romances between characters, House of the Dragon viewers were nonetheless shocked at the relationship dynamics at play.
Now, in a new interview with New York Post, Alcock explains the shocking romance between Rhaenyra and Daemon, offering insight into her character's feelings about her uncle. The star calls Rhaenyra's dynamic with Daemon "complicated," but when it comes to whether Rhaenyra and Daemon are right for each other, the star promises that "time will tell." Check out Alcock's full comment below:
I think it's complicated, I think Daemon is good for her … but whether or not he's the right thing for her, time will tell.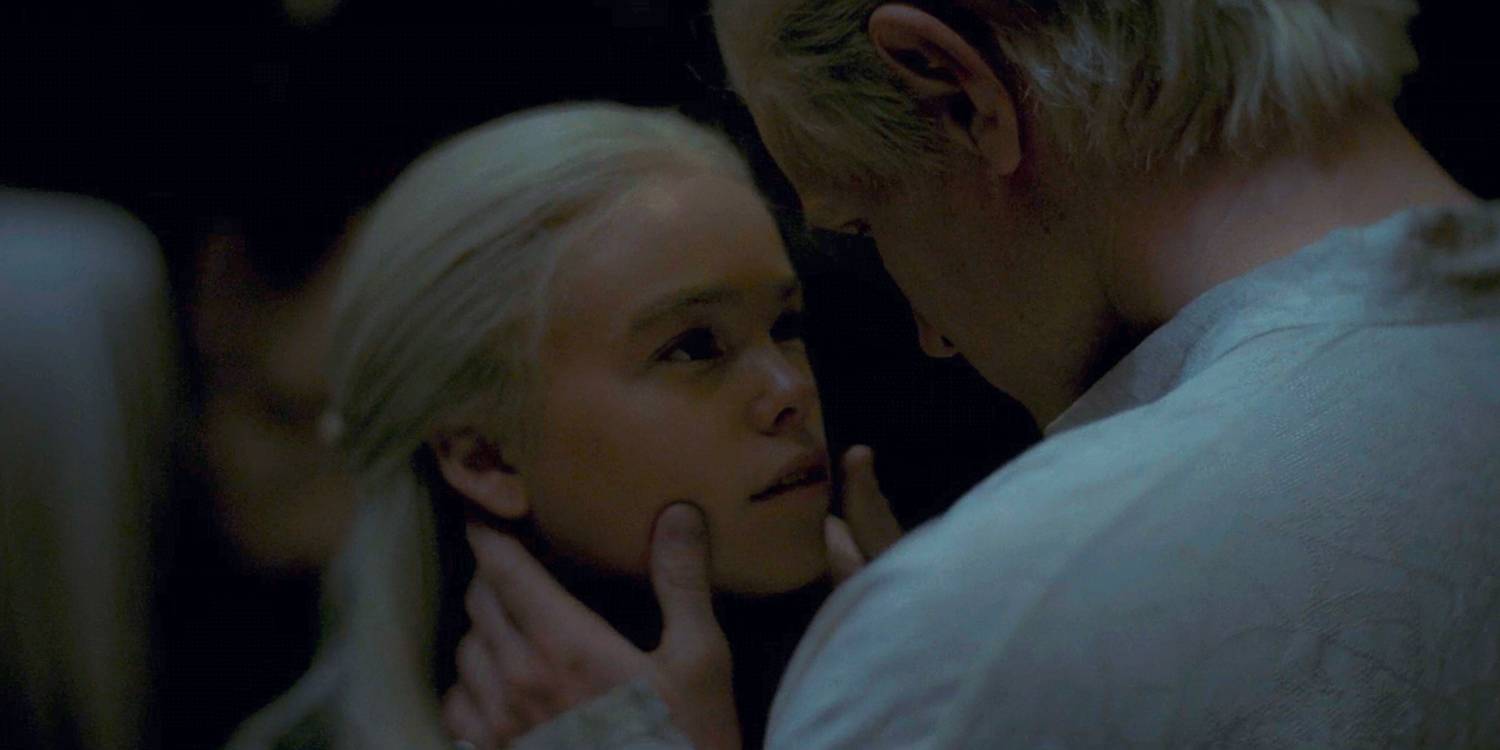 Much of the plot of Game of Thrones, at least at first, revolves around the incestuous relationship between Jaime (Nikolaj Coster-Waldau) and Cersei Lannister (Lena Headey), which made abundantly clear that characters within the world of Westeros don't necessarily see relationships between family members quite the same way that audiences do. Rhaenyra's recent exploits in House of the Dragon actually further solidify her arc that was teased from the show's pilot episode, with the dynamic between Rhaenyra and Alicent acting as an interesting precursor. Alcock previously explained the romantic undercurrent in Rhaenyra and Alicent's friendship by suggesting her character is confused about the types of love she's feeling internally, something now on display in her relationship with Daemon.
It remains to be seen what consequences may come from Rhaenyra's romantic exploration in House of the Dragon episode 4, but the incestuous coupling has clearly solidified the rift between Daemon and Viserys. With the promise of a civil war still to come, the turmoil within house Targaryen is sure to get worse before it gets better. Although Rhaenyra's impulsiveness and rebelliousness are already causing problems within the world of House of the Dragon, Alcock's character's romantic inclinations seem to be coming from a place of honesty as she tries to understand her own feelings.
Source: New York Post