---
Star Wars Reveals Stormtroopers Are No Match For Tusken Raiders
---
This post contains a preview for Obi-Wan #5
In a new preview for the final issue of Star Wars: Obi-Wan, the titular Jedi master discovers the aftermath of a battle between Tusken Raiders and Imperial stormtroopers (making his New Hope comments even stranger). While Kenobi had been recalling his past and writing in his journals, the brutal Tatooine sandstorm he had been waiting out has passed. Now, Obi-Wan will have to make an important choice after a squad of stormtroopers is demolished by the Sand People in this new Star Wars comic.
SCREENRANT VIDEO OF THE DAY
Previously in Christopher Cantwell's Obi-Wan series, Kenobi had been recounting never-before-seen moments from his past before his exile on Tatooine and protection of young Luke Skywalker. Reminiscing about his days as a youngling in the Jedi Temple and as Qui-Gon Jinn's apprentice, Obi-Wan also recalled his dark experiences as a general during the Clone Wars where he struggled alongside his former apprentice Anakin Skywalker, trying to reconcile the Jedi Order's traditional purpose with the horrors of war.
Now, a new preview for Star Wars: Obi-Wan #5 written by Cantwell and art by Adriana Melo sees Kenobi remaining in the present, venturing out from his home now that the storm has passed. However, it's not long before he discovers the remains of several stormtroopers who've fallen in battle at the hands of a formidable Tusken Raider tribe. While this new preview further proves that the Sand People are a force to be reckoned with, Kenobi does find one trooper still living, reminding him of the clones he once fought alongside years ago. Here are the preview pages and synopsis for the upcoming issue:
5 Images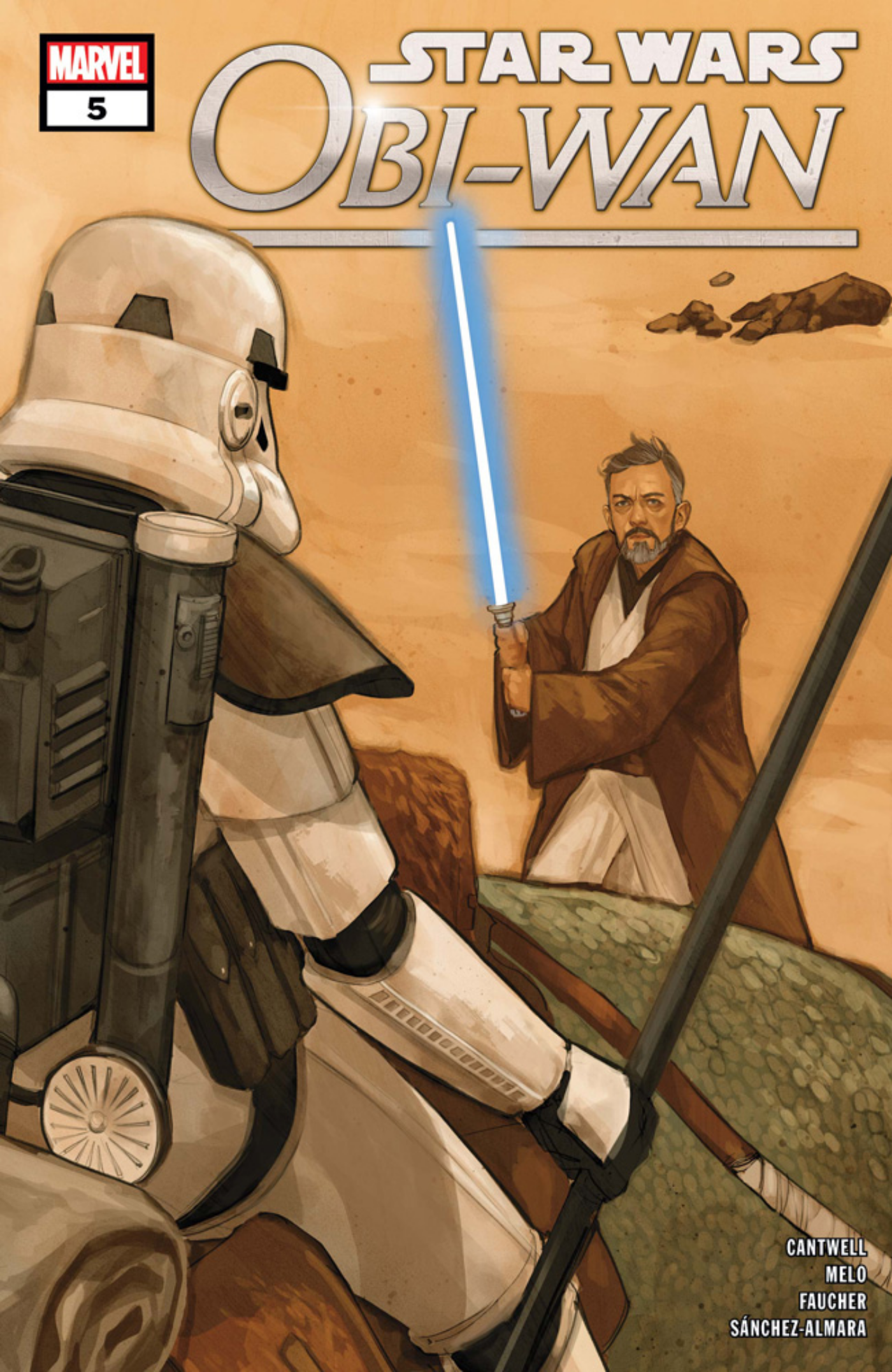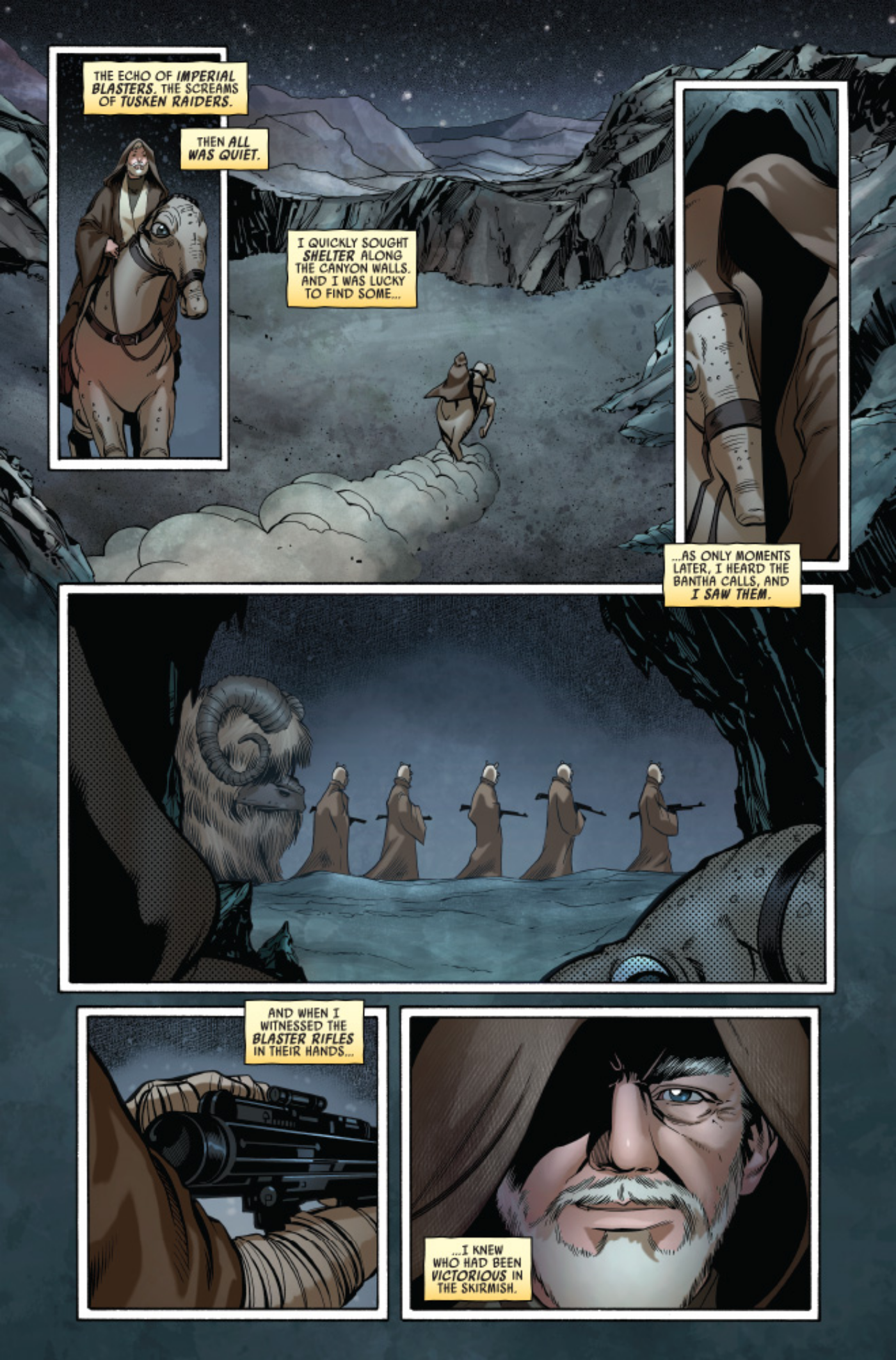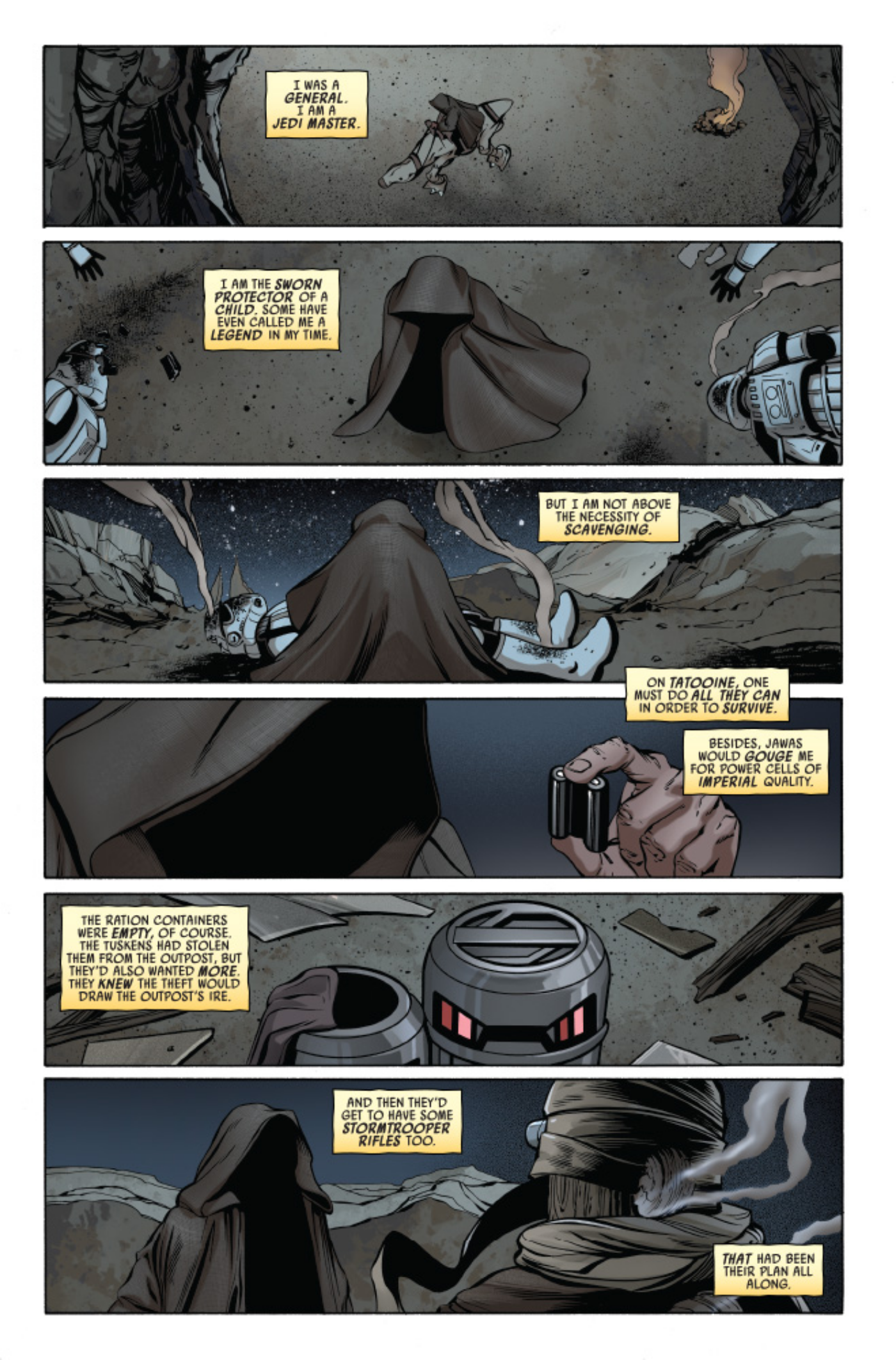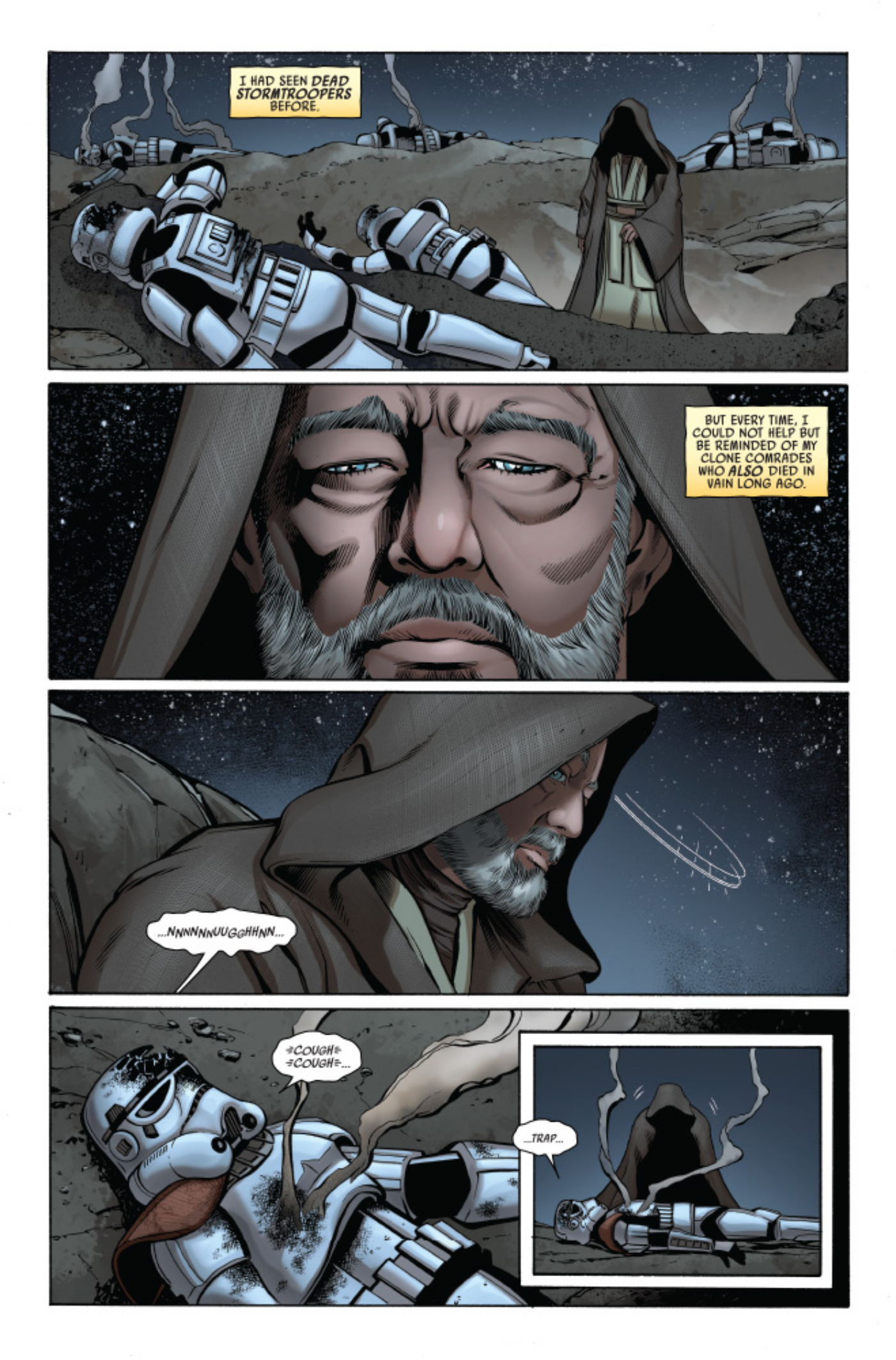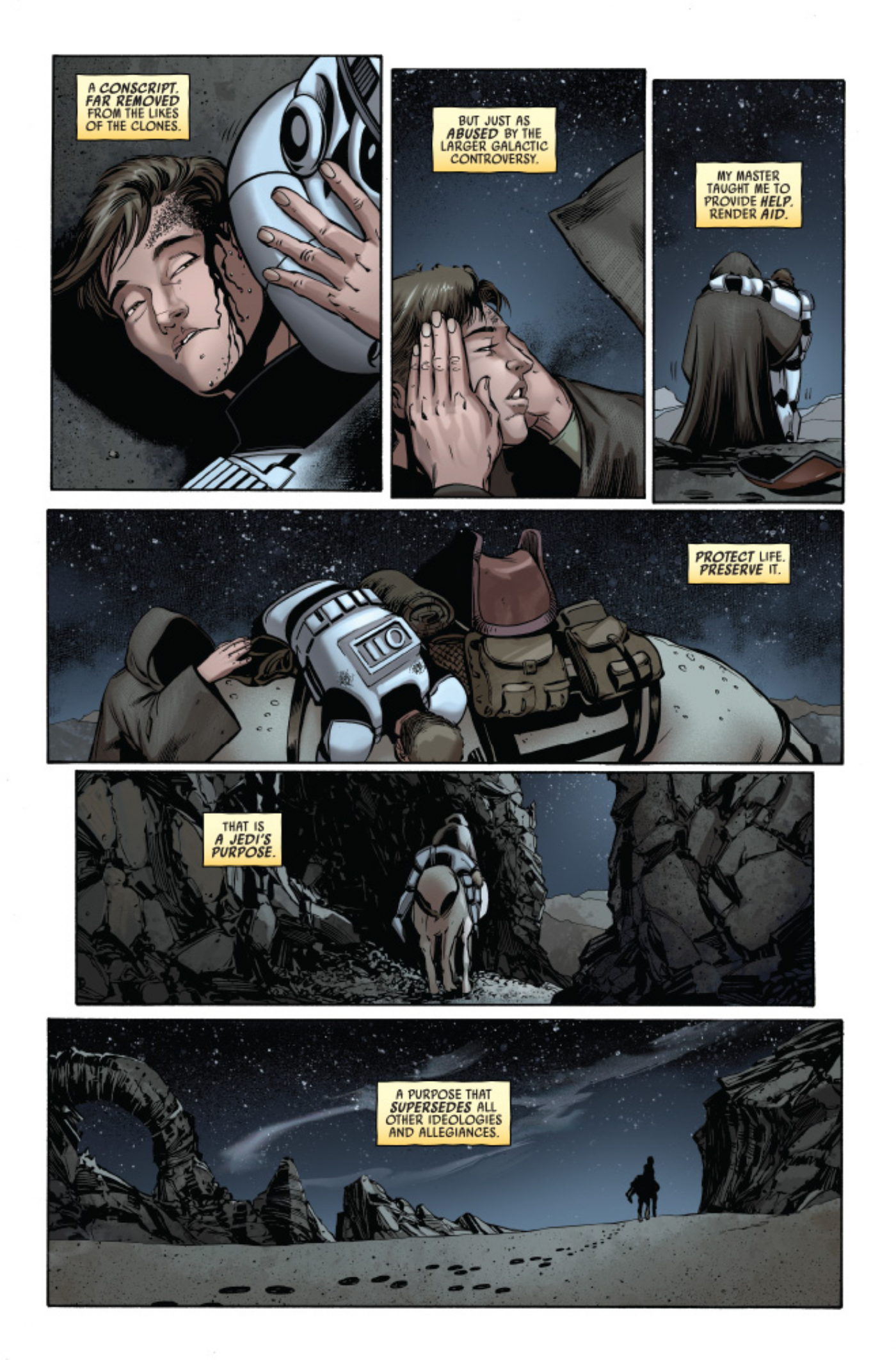 Close
BEN
Obi-Wan has closed his journals for now and looks ahead as night falls and the sandstorm that has sequestered him begins to clear. But he discovers something unexpected in the hazards of the Jundland Wastes…a squad of ambushed stormtroopers left to die. But one still has a fighting chance…and Obi-Wan may very well risk everything to save a single injured imperial stormtrooper that can't help but remind Kenobi of the clones he served with so long ago.
It should be noted that the Tuskens' decisive victory does make Obi-Wan's comments about stormtrooper precision even stranger than it already was. Likewise, it also puts a new light on the Empire's attempt to blame their Jawa massacre on the Sand People (perhaps any surviving Imperial garrisons on Tatooine held a grudge?). Either way, this preview confirms the Empire paid dearly for messing with Tatooine's Tusken Raiders.
Although Obi-Wan's decision to rescue the single Imperial survivor is surprising, Kenobi is fulfilling his original purpose as a Jedi Knight. However, Obi-Wan must know the risk he's taking by potentially jeopardizing Luke Skywalker's safety in the Star Wars galaxy. The full Obi-Wan #5 will release on September 14th.