---
Static Shock Meets Akira in Powerful New Cover
---
The iconic anime and manga Akira is crossing paths with Static in an upcoming cover for Milestone and DC Comics' Static: Season One. As the teenage superhero's new series takes inspiration from Japanese animation and storytelling, the tribute feels especially heartfelt.
Static's return to comics has come with a fresh energy as standout artist Nikolas Draper-Ivy has incorporated his anime and manga influences to Dakota City. While Virgil Hawkins' world is being remixed for a new generation of readers, Draper-Ivy continually references the stories that have been ingrained in his creative DNA. The action scenes illustrated throughout Static: Season One written by Vita Ayalahave shown a fuller extent of what's possible in the medium of comic book storytelling. The look of Dakota calls back to Dragon Ball Z and Weekly Shōnen Jump, contrasting other titles published by DC Comics. As Nikolas Draper-Ivy has been illustrating eye-catching variant covers for Static, he is now homaging a key personal inspiration.
SCREENRANT VIDEO OF THE DAY
Draper-Ivy's variant cover for Static: Season One #4 is showcasing the instantly recognizable poster for Akira. The 1988 cyberpunk anime has played a big part in the series' style, and seems to be among titular hero Virgil Hawkins' favorite movies. With his back turned away as he walks to a manhole cover with the Milestone "M," Static wears his costume first seen in the animated series Static Shock. Although Static: Season One #3 established a new suit for Virgil, this variant is paying tribute to his DC Animated Universe counterpart. Previously, Nikolas Draper-Ivy had posted the cover to social media, before it was set to be an official variant cover.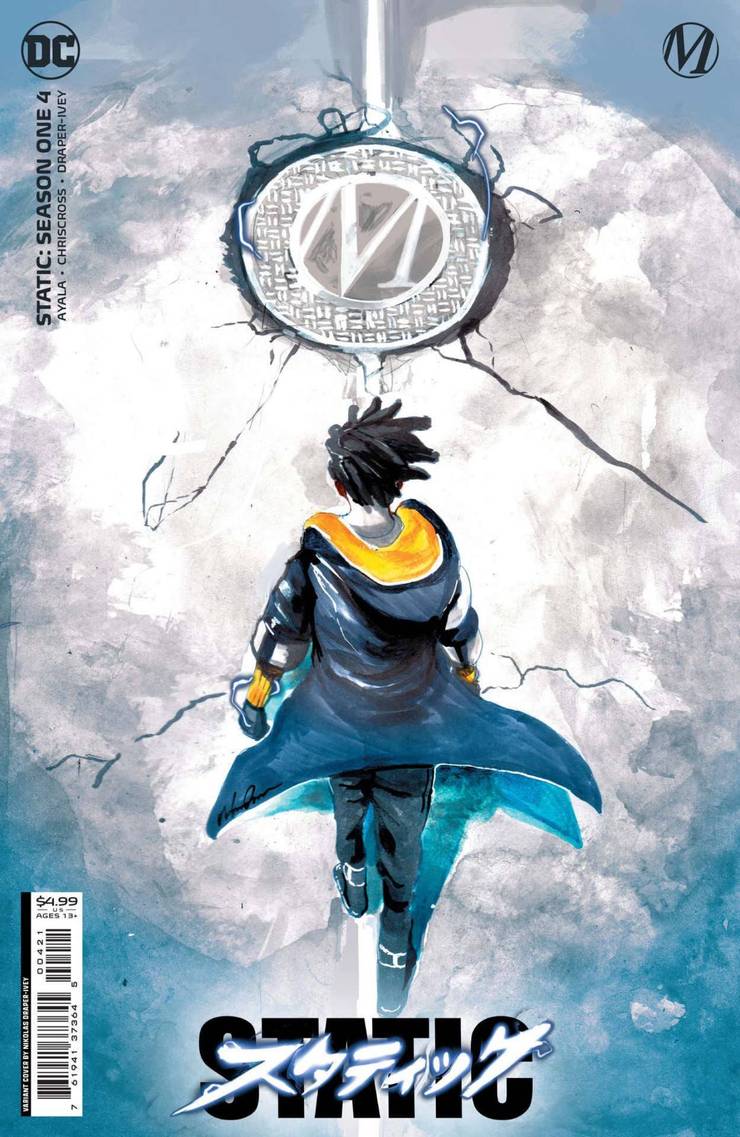 Many of Nikolas' fans have followed him since he first posted fan art for Static online. Eventually earning him the job of series artist for the rebooted title, there's something special about this particular variant that wears its inspiration on its sleeve. In an interview with Nerdist, Draper-Ivy spoke on his artistic influences for the new variant cover, recounting his process saying, "The Akira cover came to me while I was biking. I was listening to the Kaneda theme. And I was thinking, 'How could I do something with Akira and Static?' I got off my bike and I saw the cracked ground and I saw the manhole cover and I was like, 'Oh my god!' and it almost seemed too easy."
Although readers have voiced their fondness of the new costume design, some are hoping Static's animated series design makes an appearance. While it's still a possibility, it doesn't seem like the variant cover is alluding to the suit making a comeback anytime soon. Speaking on the subject with Nerdist, Draper-Ivy said, "Even though he has a different costume now, I went with the one from the cartoon. That's the one a lot of people know." Static: Season One #4 releases in digital and print on Tuesday, October 12.
Star Wars Comic Soars In Value Following Disney+ Series Leak
About The Author
Timothy Mably (563 Articles Published)
Timothy Mably writes news relating to the comic book industry for Screen Rant. His passion for storytelling was instilled at an early age, and eventually evolved into his pursuit of journalism. Timothy currently lives in Los Angeles, California.
More From Timothy Mably