---
The Avengers & Classic Disney Characters Team-Up In New Marvel D23 Art
---
The Avengers are teaming up with classic Disney characters as part of two new Marvel Comics variant cover art that will be given away as part of a giveaway this weekend as D23 Expo 2022. In celebration of Spider-Man's 60th anniversary at the publisher and Disney's upcoming 100th anniversary, the likes of Mickey Mouse, Goofy, Donald Duck, and more classic Disney icons are meeting Marvel heroes as they celebrate the significant milestones together.
SCREENRANT VIDEO OF THE DAY
This weekend is the D23 Expo 2022, where new products, announcements, and more will be showcased in a celebration of all things Disney. On Friday, numerous trailers were revealed for upcoming Disney movies and other projects, including the new Halle Bailey-starring live-action adaptation of The Little Mermaid. On Saturday, the attention will shift to Marvel, where Marvel Studios will have a panel, while later in the day, there will be a panel celebrating the 60th anniversary of Spider-Man. In addition, Marvel Comics has shared two new variant cover art they will give away at the event, which features the Avengers, Spider-Man, and several Disney characters.
Marvel Comics revealed the two new comic books that will be given away at D23 Expo 2022. The two covers from Humberto Ramos and Edgar Delgado will be up for grabs at the Spider-Man 60th-anniversary panel, which will feature Marvel editor-in-chief C.B. Cebulski, Spider-Man editor Nick Lowe, current Spider-Man writer Zeb Wells, and Ramos. The first variant from Ramos and Delgado features the Avengers celebrating Spider-Man's birthday with Mickey Mouse, as Captain America, Black Panther, Iron Man, and Captain Marvel join the festivities. The art features Mickey holding a cake as the web-slinger hangs upside down on his web.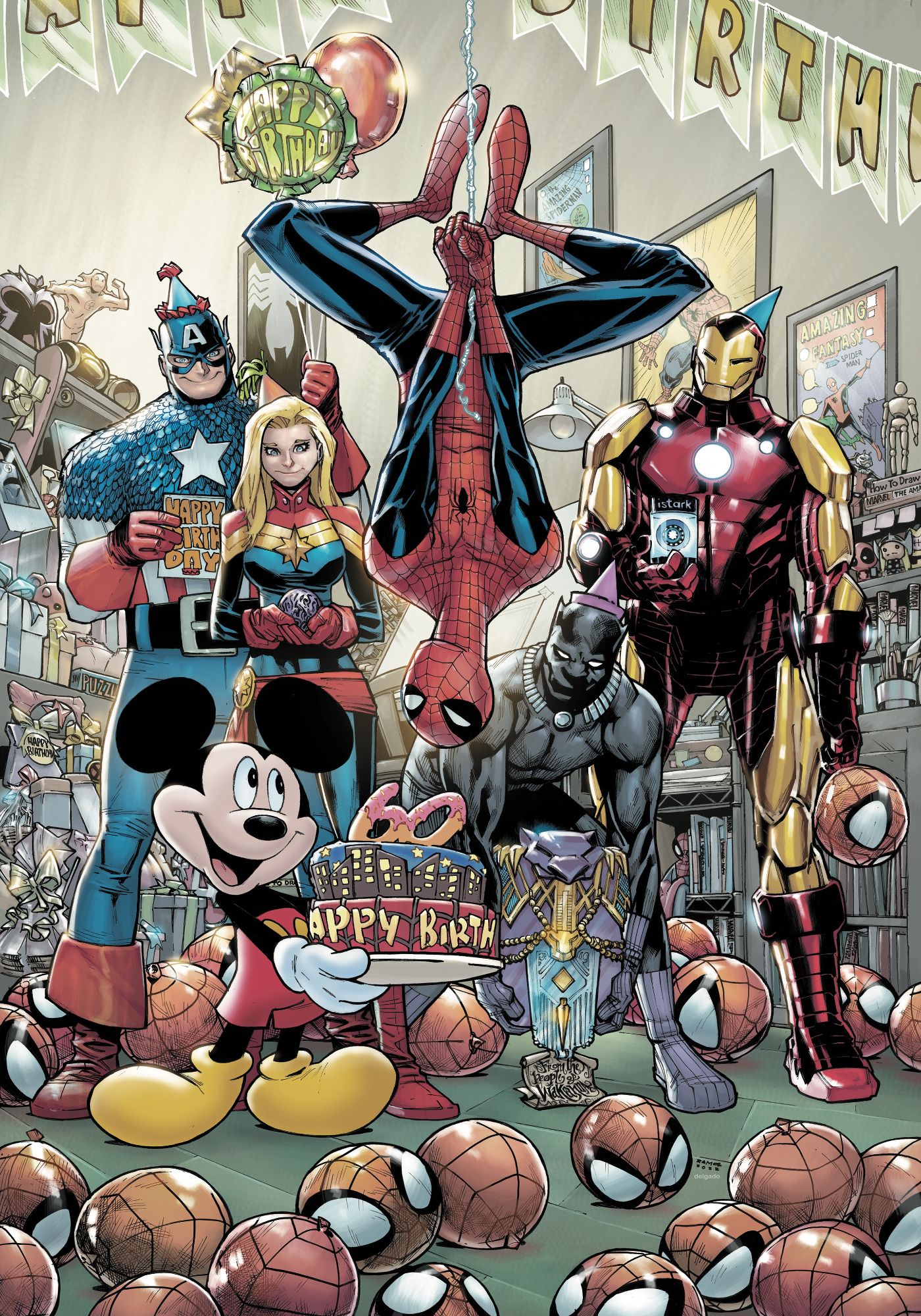 The second variant cover art from Ramos and Delgado flips the script as Spider-Man celebrates Disney's 100th anniversary next year, holding a cake in front of iconic cartoon characters including Donald Duck, Minnie Mouse, Mickey Mouse, and Goofy. The image is filled with Disney easter eggs, including numerous Disney animation characters, including Baymax, Stitch, and Pinocchio, among those seen in the background.
Both images capture the current synergy between Marvel and Disney, as all the comic book and classic characters now belong under the same umbrella. The variant artworks from Ramos and Delgado are unsurprisingly superb. It should immediately become collector's items for both Marvel and Disney fans who want to remember the event. Readers could pick up the exclusive Avengers, and Spider-Man-starring covers at the 60th anniversary of Spider-Man panel at D23 on Saturday.