---
The Masked Singer Reveals Mouse's Identity
---
Group B is back on The Masked Singer and fans were shocked to see yet another music legend go home. Tonight Mouse lost her bid to stay anonymous and was unveiled to reveal music great Dionne Warwick.
Despite five great performances, fans and panelists were surprised to see yet another iconic singer out so early. Week one Mouse wowed with her performance of "Get Here" by Oleta Adams making it clear we were dealing with a great vocalist. It was obvious the way they helped her in and out that it was an older performer and the clue package started out with her saying she had always been a leader in her field. This was when fans started to suspect another music legend. While names like Tina Turner were also thrown out, it was too hard to conceal Warwick's unique voice for many viewers.  A clue showed a "Bang Bang Formation" and Warwick had a song from the James Bond series called "Mr.Kiss Kiss Bang Bang."
SCREENRANT VIDEO OF THE DAY
Related: The Masked Singer: Kitty Identity Prediction & Clues
The numbers "19" and "79" were featured on the back of two football players this referenced her album by the name of Dionne released in 1979. All the football references confused fans but she cleared this up after the reveal when she noted that she was once made honorary coach for the Raiders for a day. She said in that same clue package she never accepted anything less than gold. Warwick sang the song "Solid Gold" which was the theme song to the show by the same name, in which she also hosted. This was one clue that that panelist Robin Thicke picked up on. Thicke cast the first prediction as Dionne Warwick, which was quickly seconded by fellow panelist Nicole Scherzinger.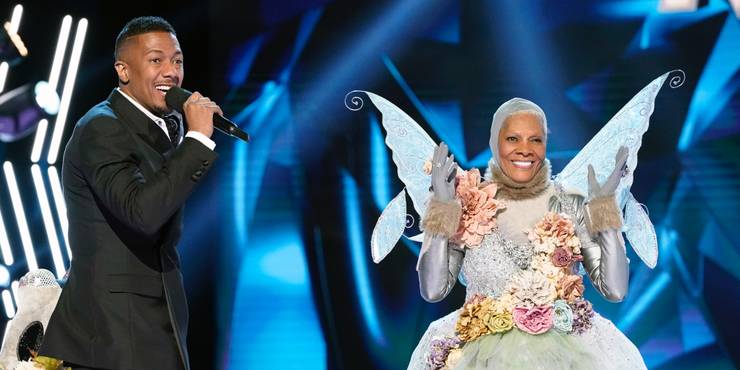 This week she performed "This Will Be (An Everlasting Love)" by the late Natalie Cole. This song held special meaning as she was a close friend. Looking for more confirmation that it was, in fact, Dionne Warwick, viewers got what they were seeking in the new clue package. There were prayer hands which panelist Nicole connected to the singer's hit song "I Say a Little Prayer," and the comment "exciting and new" which she connected to the show The Love Boat for which Warwick sang the theme song. Lastly, the clue package had a bowl of Brazil nuts referencing the time the legendary singer spent living in Brazil. Unable to hide her unique and recognizable voice from the panelist along with everyone at home, she knew they were on to her. Nicole and Robin both stayed with their guess of Dionne Warwick. By the end of the show, Jenny and guest panelist Gabriel Iglesias agreed.
Knowing Mouse's identity didn't make the performances any less exciting, or seeing her go any less disappointing. Fans are blown away with the amount of talent so far packed into Season 3. As panelist Jenny pointed out it seemed unbelievable there would be two great legends like Chaka Khan and Dionne Warwick on the same season and yet, there were. With another week yet of Group B, everyone is casting their votes for who should be the final three to join the Super 9. But even more exciting is the fact that we still have six performers we've yet to hear from at all. Will Group C hold as many big names? Is it possible there will be three music legends in one season? We can hope.
The Masked Singer airs Wednesdays at 8pm EST on Fox.
90 Day Fiancé: Jasmine Flaunts Makeover After Scary Hair Loss Problem