---
Victory For Ukraine Honors Real-Life Heroes During Historic War: Review
---
In times of civil unrest, sometimes the best solutions can be derived from art, and as Ukraine continues to suffer great losses in the midst of war, TOKYOPOP arrives to deliver to audiences ПЕРЕМОГА: VICTORY FOR UKRAINE. In hopes of raising awareness and money for Ukraine (with a portion of proceeds being donated to Razom for Ukraine, directly supporting the nation's people), the publisher presents a collection of nine chapters (or "episodes," as they are referred to as in the graphic novel) highlighting how the nation's people have gone out of their way to fight for the rights of Ukraine. Each story is equal parts historical and inspiring.
SCREENRANT VIDEO OF THE DAY
They are historical in that many of these stories educate readers — especially those who live outside of Ukraine — on the many ways in which the Ukraine people have fought for independence and succeeded in doing so. For example, Episode 5, "Zmiinyi Island 13" by Ihor Kurilin and Denys Fadieiev takes a look at the first day of the Russian invasion of Ukraine on February 24th this year and the proceeding battle on Snake Island. This chapter gives a horrifying, yet intimate glimpse onto that day in Ukrainian history that many Americans may not be totally familiar with.
One standout chapter would have to be Episode 2, "The Witch" by Kateryna Kosheleva and Denis Fadieiev. It centers around the historic witch culture in Ukraine as one witch is depicted single-handedly taking on an entire army by herself. While every other chapter is far more grounded in reality, this chapter relishes in the supernatural. Even in its fantastical elements, it still manages to capture the themes and recurring spirit that each of these chapters shares. If one thing can be derived from each chapter like this, it's how the endurance of the human spirit strengthens the brave souls in Ukraine.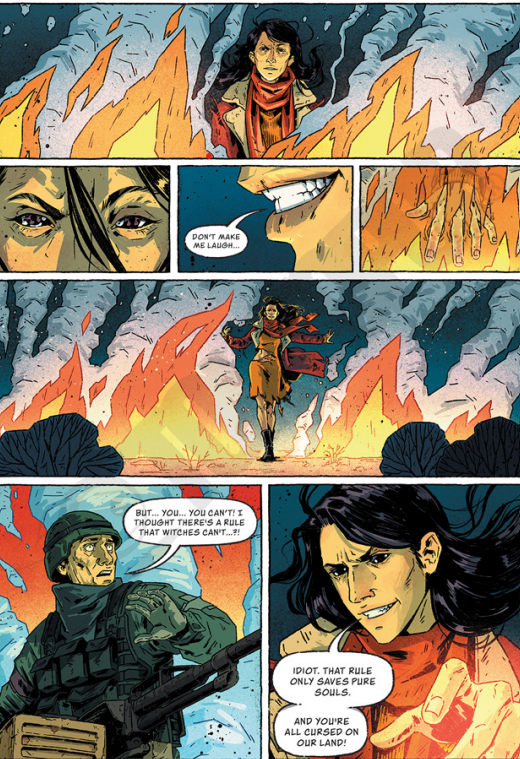 Another noteworthy aspect of "The Witch" is the mystifying art style. That's perhaps the most striking thing about this graphic novel as a whole, that all the art work manages to be so mesmerizing despite each featuring art from a different artist. Oleksandr Koreshkov, the afformentioned Fadieiev, Yevhenii Tonchylov, Volodymyr Povoroznyk, Ihor Kurlin, Maksym Bohdanovskyi, Bohdana Vitkovska, Nazar Ponik, and Kyrylo Malov all do a tremendous job in their respective chapters at capturing the essence of the story through their art while also showcasing a distinct style that separates each story from the next. Art styles range from practically hyperrealistic to beautifully simplistic, all depending on what the story calls for.
For anyone looking for an engrossing learning experience in hopes of understanding what Ukraine is currently going through, along with a history lesson in the nation's past, this graphic novel is a must-buy. TOKYOPOP's ПЕРЕМОГА: VICTORY FOR UKRAINE is available now in local comic bookshops and digital stores.