---
Weekend Box Office Wrap Up: November 30th, 2014
---
While most of the focus this weekend was on a certain trailer, the holiday box office was fairly tepid.
In at number 1 is The Hunger Games: Mockingjay – Part 1 with $56 million. Although last week's big winner retained its top spot, it did fall about 56%, on a holiday weekend no less. Regardless, Mockingjay – Part 1 is doing just fine at the box office, with $225 million domestic and $480 million worldwide. As a matter of fact, the film is already the 7th highest-grossing domestic release of the year.
The number 2 film this weekend is Penguins of Madagascar (read our review) with $25.8 million for the weekend and $36 million since its debut on Wednesday. That's easily the worst opening for the Madagascar franchise by a substantial margin. Madagascar 3, for example, opened to $60 million back in 2012.
SCREENRANT VIDEO OF THE DAY
Animated spinoffs are typically a risky venture but Fox and Dreamworks were willing to gamble that the Penguins had enough of a fanbase. Unfortunately, either franchise fatigue or penguin fatigue appears to be setting in.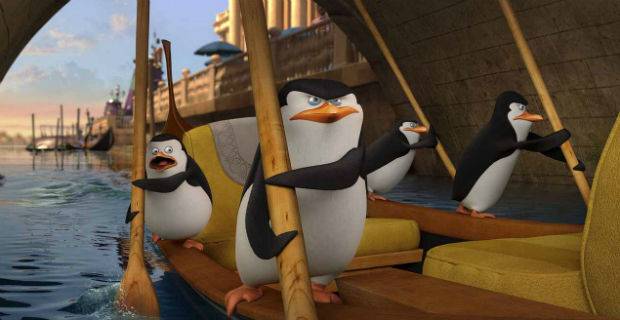 Coming in at number 3 is Big Hero 6 with $18.7 million. Disney Animation's latest has grossed $167 million domestic and $224 million worldwide.
Interstellar is the number 4 film with $15.8 million. Although the film has grossed an admittedly solid $147 million domestic, Interstellar is doing huge business overseas. So far, the film has made $395 million internationally, bringing its worldwide total up to $542 million after four weeks.
Rounding out the top 5 is Horrible Bosses 2 (read our review) with $15.7 million for the weekend and $23 million since Wednesday. That's about half as much as the first film opened to back in 2011 and well under expectations for this weekend.
While the first Horrible Bosses may have been a surprise hit, few would say that it was screaming for a sequel. Clearly, audiences had their fill of the Bateman, Sudeikis, and Day trio.
In at number 6 is Dumb and Dumber To with $8.2 million. The sequel actually fared much better than expected against Horrible Bosses, dropping only 42% from last week. So far, Dumb and Dumber To has grossed $72 million.
Coming in at number 7 is The Theory of Everything (read our review) with $5 million, which brings its total gross up to $9 million. Based on the formative years of Stephen Hawking, this film has been garnering rave reviews across the board, most especially for Eddie Redmayne's portrayal of the physicist. Look for this one to stick around for a while as awards season heats up.
The number 8 film is Gone Girl with $2.4 million. David Fincher's adaptation continues to stick around in the top 10 and has grossed $160 million in the process.
Birdman comes in at number 9 with $1.8 million. The film actually saw a slight uptick in grosses this weekend and is now up to $17 million.
Rounding out the top 10 is St. Vincent with $1.7 million. The Bill Murray and Melissa McCarthy indie comedy has made a solid $39 million sum.
Outside the top 10: Benedict Cumberbatch's The Imitation Game (read our review) grossed $482,000 on four screens for an average of $102,500/screen.
[NOTE: These are only weekend box office estimates – based on Friday and Saturday ticket sales coupled with adjusted expectations for Sunday. Official weekend box office results will be released on Monday, December 1st – at which time we'll update this post with any changes.]
Source: Box Office Mojo
Wordle 308: April 23, 2022 Hints & Answer