---
Wesley Snipes Supports MCU's Blade Reboot & New Star Mahershala Ali
---
Former Blade actor Wesley Snipes is in full support of Marvel Studios' casting of Mahershala Ali as the titular vampire hunter in their upcoming reboot. Marvel shocked fans at its 2019 San Diego Comic-Con panel when it announced plans for a new Blade movie starring Ali. Although many fans found the news thrilling, some were upset that the franchise would return without Snipes in the lead role.
The three films in the Blade franchise, all starring Snipes, were early successes for Marvel, even before the studio had developed the Marvel Cinematic Universe. Fans feel like Snipes was the only person for the role, although the last film, Blade: Trinity, released over 15 years ago. It also seemed like Marvel had no interest left in the character, at least until they made the shocking announcement about a new Blade movie at SDCC. Marvel later explained that Ali, a two-time Academy Award winner, had come to them about portraying the character. Marvel couldn't refuse, and now Blade will officially make his arrival in the MCU.
SCREENRANT VIDEO OF THE DAY
Fans of the original Blade films, though, are still disappointed in the casting. However, Snipes sent a statement to ComicBook.com and offered his support to Ali, telling fans to "chillaaxx" and accept that there's a new Blade in town. He wrote:
"To all the DAYWALKERS losing their minds right now, chillaaxx. Although the news comes as a surprise, it's ALL GOOD. Such is the 'business' of 'entertainment!' Much peace to the MCU crew – always a fan. Honor and respect to the grandmaster Stan. Congratulations and Salaam to Mahershala Ali, a beautiful and talented artist whose expressions I look forward to experiencing for many years to come. Inshallah, we will someday work together. Most importantly to my loyal fans, the incredible outpouring of love is overwhelming. I am grateful for the never-ending support. So, 'nah fret nah worry, it's not de end of de story.' Welcome to the Daywalker Klique."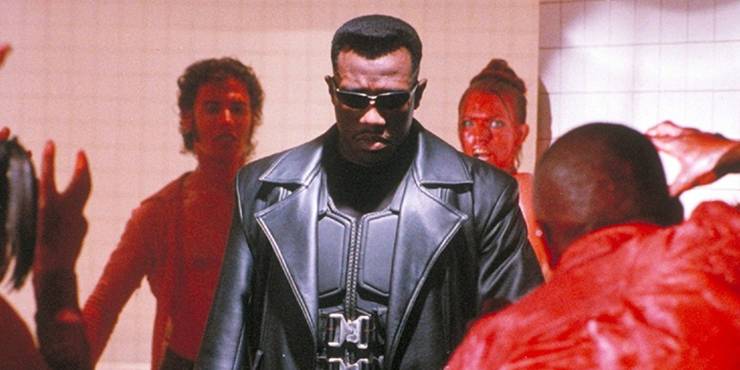 This statement is a departure from a tweet Snipes posted in 2017 in which he suggested he was the only actor who should portray Blade. With many fans wanting to see Blade make his way into the MCU, Snipes insisted that if Blade 4 ever happened, he would gladly return to the role. Although a TV show produced by New Line was in the works in 2006, it never happened. The rights to Blade reverted back to Marvel in 2012, and by then Disney owned the company. In 2016, Marvel Studios head Kevin Feige announced that the company had no plans for Blade at the time. It seems that Ali's call to Marvel, though, changed some minds.
Snipes is correct that this is how Hollywood sometimes works; fans don't always get what they want. He's also right, though, that fans should "chillaaxx" because it seems the character is in excellent hands with Ali. Marvel can now take the story even further than before and can bring the character into the MCU, allowing Blade to become an Avenger if that's what the story requires. It's also highly likely that Marvel will find a way to include Snipes in the new movie, either by bringing him in as a different character or for a cameo role.
Source: ComicBook.com
Key Release Dates
Black Widow (2021)Release date: Jul 09, 2021
Eternals (2021)Release date: Nov 05, 2021
Shang-Chi and the Legend of the Ten Rings (2021)Release date: Sep 03, 2021
Doctor Strange in the Multiverse of Madness (2022)Release date: May 06, 2022
Thor: Love and Thunder (2022)Release date: Jul 08, 2022
One Jim Carrey Movie Perfectly Explains His Entire Career
About The Author
Robin Burks (711 Articles Published)
Robin Burks is an entertainment and science/technology writer, as well as a published author, avid con-goer and costumer/cosplayer. She currently writes about pop culture and entertainment for ScreenRant.com, but has also written for TechTimes.com and DVICE.com.
Robin is also the author of a series of speculative fiction novels: Zeus, Inc.; The Curse of Hekate; and Return of The Titans. In 2014, Indie Reader named the protagonist of that series, Alex Grosjean, as one of its Top Five Smart, Strong and Relatable Female Characters. The series was also inducted into the 2018 Darrell Awards Coger Hall of Fame in Memphis, TN. Since then, she has published her fourth novel, Madame Vampire, and is currently working on a series of young adult novels.
Robin, who currently lives in Missouri with her five cats, loves all things French and has a serious obsession with Doctor Who. Visit Robin's website for more information on her fiction work or to contact her.
More From Robin Burks