---
Zoe Kravitz's Catwoman Smolders in New DC Comics Cover Art
---
Warning! Spoilers for Catwoman #41
Matt Reeves' upcoming The Batmanfeatures Zoë Kravitz as Catwoman, and she's also making her way onto a variant cover for Catwoman #41. Artist Jenny Frison provides the new look at Kravitz's take on Selina Kyle.
Following the announcement that writer Tina Howard and artist Nico Leon will join forces working on Catwoman this year, previews have been released for what's to come with their run. Without Batman around, Selina is left to her own devices, but soon remembers that Gotham City has other bat heroes keeping watch. For now, Catwoman and the violent vigilante Onyx are teaming up, disregarding Bruce's "no kill rule." As Selina continues to steal jewelry among other valuable items, she returns to her roots as a cat burglar. The series also teases that she will find herself in over her head with the Gotham underworld, facing Valmont and Eiko Hasigawa, among other dangerous figures.
SCREENRANT VIDEO OF THE DAY
Before she officially debuts in Matt Reeve's The Batman, Zoë Kravitz's Catwoman is being spotlit on a variant cover of Catwoman #41. The cover illustrated by Jenny Frison might be the clearest look yet at the prototype Catwoman costume that Selina Kyle is set to wear in the film alongside Robert Pattinson's Dark Knight. As new trailers continue to emphasize Selina's part in the movie, the cover solidifies her as a crucial component of the rebooted franchise.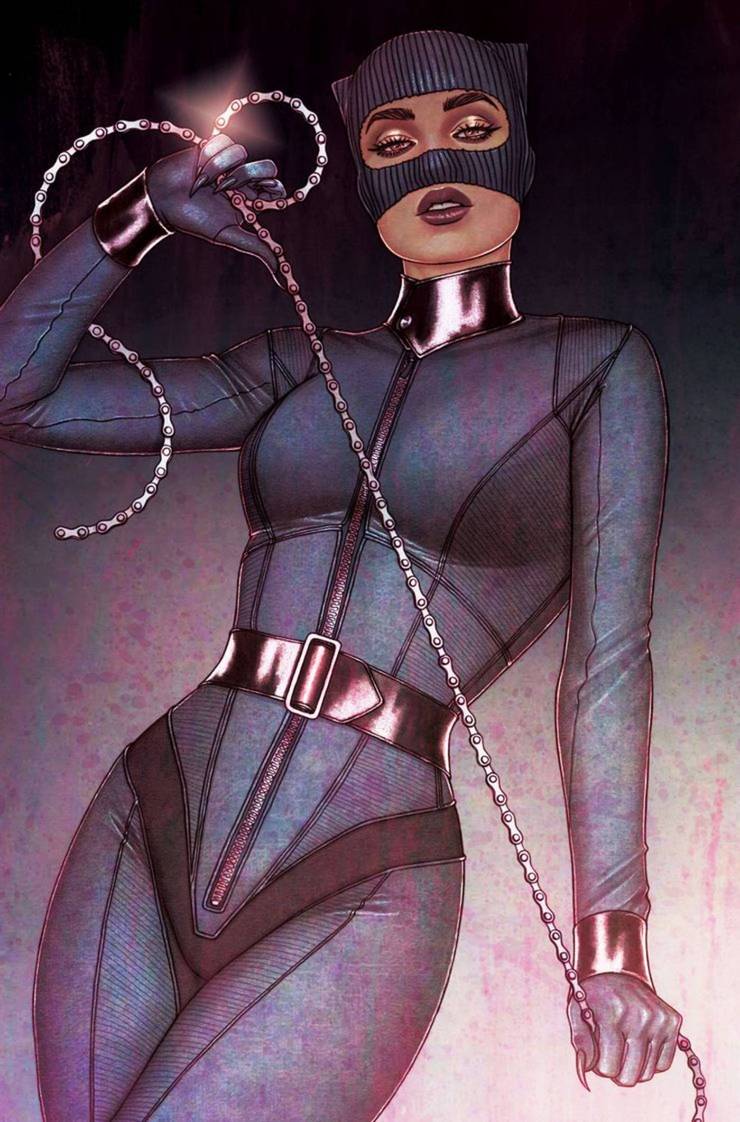 CATWOMAN #41
Written by TINI HOWARD
Art by NICO LEON
Cover by JEFF DÉKAL
Variant cover by TULA LOTAY
1:25 variant cover by SOZOMAIKA
The Batman variant cover by JENNY FRISON
International Women's Day variant cover by DANI
$3.99 | 32 pages | $4.99 US Variant (card stock)
ON SALE 3/15/22
With Batman out of the picture, Catwoman would be wise to remember that there are more than bats in Gotham's belfries. Speaking of bats, Onyx returns to her home city to bat cleanup and make sure Catwoman's not letting any strays into her city…and with no big Bat in the shadows, those pesky no-killing rules are off the table. Let's see if Catwoman and Onyx can agree on a target…
Wielding a weaponized bike chain in place of her traditional whip, the grounded take on Catwoman stands out from her comic book counterpart. However, she still maintains the black skintight outfit, complete with its zipper. Similar to Anne Hathaway's portrayal in The Dark Knight Rises, her mask teases Catwoman's cat ears, with the altered ski mask resembling them. Even Selina's belt resembles her comic book origins, with a more stylish design than live action adaptations have been used to in recent years. The cover also reveals that her sharp feline-like nails are actual nails, a part of her gloves. Instead of sharp fingertips like Catwoman has had in the past, they have the appearance of traditional false nails.
Other announced variant covers for the issue will be illustrated by Tula Lotay, Sozomaika, and Dani. As March 4 approaches for The Batman's theatrical release, it's likely that more Catwoman-centric titles will be homaging Kravitz's portrayal. Catwoman #41 will release on Tuesday, March 15.
Hulk Has Finally Met His Match: MONOLITH, Queen of Hulk Planet
About The Author
Timothy Mably (563 Articles Published)
Timothy Mably writes news relating to the comic book industry for Screen Rant. His passion for storytelling was instilled at an early age, and eventually evolved into his pursuit of journalism. Timothy currently lives in Los Angeles, California.
More From Timothy Mably